Apple Launches New Consumer-Friendly Privacy Site
Apple this morning launched a revamped and redesigned Privacy website designed to make its privacy policies more accessible to consumers.
The new site better outlines how Apple's commitment to privacy benefits users through concrete examples of features like Apple Pay and an iPhone's passcode, and it explains how Apple uses encryption, Differential Privacy, and strict app guidelines to protect users.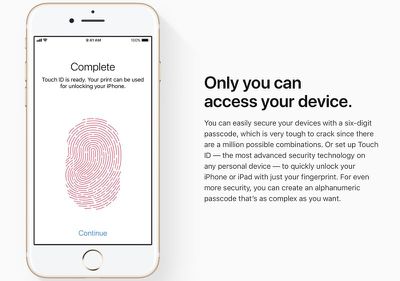 Apple has a section on the new privacy site that cover all of its apps and features, including iMessage, Apple Pay, Health, Analytics, Safari, iCloud, CarPlay, Education, Photos, Siri, Apple Music, News, Maps, and more.
It's incredibly detailed and explains the security measures and privacy features built into each and every feature.


There's also a new feature on how to secure devices with a passcode and Touch ID, and how to keep your Apple ID safe with a strong password, two-factor authentication, and an awareness of scams and phishing attempts. It explains how these features work, and beyond that, why customers should want to use them.


Apple has long had a transparent privacy policy and has outlined all of its privacy practices on its website, but this new site does so in a way that's easier for customers to understand and digest in just a few minutes. For anyone who has a question about one of Apple's products, the new site is worth checking out.