Apple Investigating Fix for Series 3 Watches Connecting to Unknown Wi-Fi Networks Instead of LTE [Updated]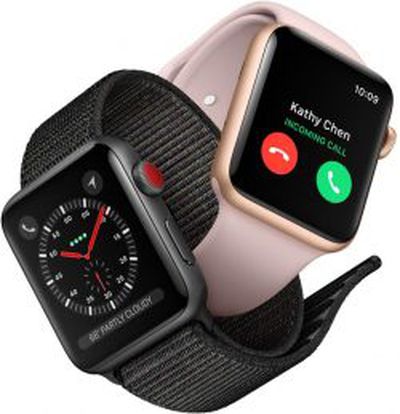 Apple is investigating a fix for an issue where an Apple Watch Series 3 with LTE may stay connected to unknown Wi-Fi networks with no connectivity, at times preventing the watch from using cellular, it has told The Verge.
"We have discovered that when Apple Watch Series 3 joins unauthenticated Wi-Fi networks without connectivity, it may at times prevent the watch from using cellular," an Apple spokesperson said in an emailed statement. "We are investigating a fix for a future software release."
In her Apple Watch Series 3 review, The Verge editor Lauren Goode said, on more than one occasion, the watch would connect to a single bar of an unknown Wi-Fi signal, and remain on that network rather than switching to LTE.
On more than one occasion, I detached myself from the phone, traveled blocks away from my home or office, and watched the Watch struggle to connect to LTE. It would appear to pick up a single bar of some random Wi-Fi signal, and hang on that, rather than switching to LTE.
Goode explains further in her review:
The way the LTE version of the Watch is supposed to work is that it will "hand off" from your smartphone's connectivity to whatever other type of connectivity is available. In some cases, like when you're in a place with a Wi-Fi network you've connected to before, this will be Wi-Fi. In other cases, like when you're out without your phone, and you're nowhere near a known Wi-Fi network, this will be LTE.

It's reasonable to expect it might take a minute for the Apple Watch to "find" LTE after you've walked away from your phone. It's not reasonable for this to take many minutes or not work at all. This almost makes me wish there was a way to actively turn off Wi-Fi on the Watch, so it would just default to LTE. But that's also another step that I, the wearer, the person-who-is-not-wearing-it-wrong, would have to take.
Apple said it will address the issue in a future watchOS software update, but it didn't specify how long that will take.
Update: According to iMore's Serenity Caldwell, the issue is a watchOS 4 bug that allows the Apple Watch to attempt to connect to Wi-Fi networks with interstitial captive screens such as those that require you to accept terms and conditions. The Apple Watch has no way to acknowledge these interstitials, leaving the device in a state of limbo where it's connected to the Wi-Fi network but can't access the internet and refuses to switch to cellular.