T-Mobile Offered Fastest LTE Speeds in the First Half of 2017
T-Mobile was the carrier with the fastest mobile network in the United States during the first half of 2017, according to a new U.S. Market Report for Mobile Broadband shared this morning by Ookla.
The carrier scored a 23.17 using Ookla's new "Speed Score" metric that combines low-end, median, and top-end performance for both upload and download speeds. Ookla says this is a comprehensive metric combining all factors that "matter to a good network experience" into a single score.
Coming in after T-Mobile was Verizon, with a Speed Score of 21.13, while AT&T came in third with a score of 20.05 and Sprint brought up the rear with a score of 15.39.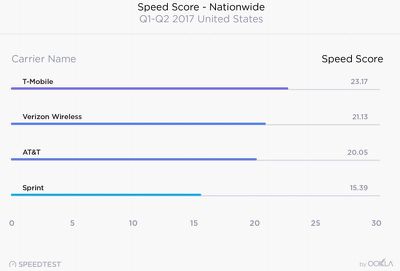 According to Ookla, T-Mobile's "tightly-spaced cell site grid" and smaller subscriber base gave it an edge over Verizon and AT&T, both of whom are dealing with higher traffic loads since their unlimited plans were introduced last year.
While Verizon has managed to deliver "consistent and reliable performance" across its network despite the unlimited plans, the rollout of AT&T's unlimited plans resulted in a "notable drop in performance."
Sprint, unsurprisingly, had the slowest mobile network with a Speed Score of 15.39, despite improvements made over the course of the last year. From June of 2016 to June of 2017, Sprint LTE speeds improved by 23.7 percent, but the carrier still can't match the big three.
T-Mobile comes out on top for overall speeds and acceptable speeds at a national level and provides the fastest service in 40% of the largest cities in the U.S. Verizon Wireless has the fastest service in many of the cities we looked at and comes in first on acceptable speeds in the top 100 CMAs, but we suspect their use of depriortization on unlimited could be bringing down their overall performance.

AT&T falls near the bottom in consistency of acceptable speeds and also saw a spoke in low end speeds in Q2 2017. The slowest carrier, Sprint, struggles with consistently providing acceptable speeds but saw big gains in the first half of the year.
While the above chart information covers the United States as a whole, Ookla also compared mobile performance data in the 100 most populated Cellular Market Areas within the country. The rankings were the same, but T-Mobile and Verizon Wireless were nearly neck and neck. Across the board, users in populated cellular markets see higher speeds.


Mobile performance by carrier varies greatly from area to area, so while T-Mobile may have the best overall network speeds, AT&T or Verizon could have a significant edge depending on where a user is located. All four carriers are aggressively pursuing improved LTE speeds and network expansion through spectrum purchases, refarming legacy spectrum (like ending 3G networks), network densification, relay solutions, and other techniques.
Across all carriers in the United States, there was a 19.2 percent increase in average mobile download speeds between the first half of 2016 and the first half of 2017, with an average speed of 22.69 Mb/s.


Average mobile upload speeds didn't see quite as much improvement, coming in at 8.51 Mb/s for a four percent improvement year over year. When it comes to average mobile download speeds, the United States is ranked 44th in the world. That rank drops down to 65th for average mobile upload speed. In rural areas, performance can be significantly worse, with speeds that are 20.9 percent slower than the nation as a whole. Verizon (51.6%) and AT&T (27.3%) have far more coverage in rural areas than T-Mobile (11.5%) and Sprint (9.6%).
In addition to looking at network performance by carrier, Ookla also shared some data on LTE speeds across carriers on two popular devices: the iPhone 7 and the Galaxy S7. On T-Mobile and Sprint, broadband speeds were on average slightly faster for the Galaxy S7, with little difference on Verizon and AT&T networks.
Both the iPhone 7 and the S7 see higher mobile network speeds than other devices because they aggregate three component carriers to improve peak and average speeds. On T-Mobile, Samsung has an edge because the Galaxy S7 enables features like higher order modulation and 4-Layer MIMO.


Ookla's report is based on data gathered from its popular Speedtest Intelligence benchmark during the first half of 2017. More than 3 million unique devices performed more than 14 million user-initiated cellular network tests, giving the company a lot of data to work with to figure out trends during the year. For the S7 and iPhone 7 comparison tests, data from 250,278 iPhones was collected and compared to data from 134,742 Galaxy devices.
Additional test results covering minimum acceptable experience, the impact of unlimited data, fastest carriers by city, and more can be read in the full report.