Apple May Launch Galaxy Note 8-Sized iPhone With 6.4-Inch OLED Display Next Year
While a few weeks remain until Apple is expected to unveil the so-called iPhone 8, widely rumored to be its first smartphone with an OLED display, the rumor mill has already turned its attention to next year.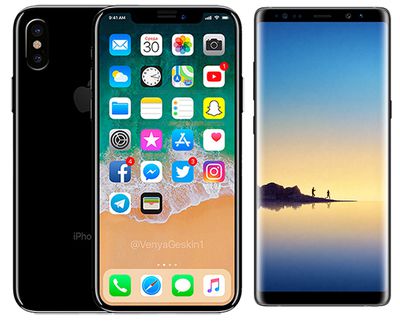 South Korea's
ETNews
, citing unnamed industry sources, claims Apple is working with Samsung Display and its other suppliers on the development of next-generation OLED displays in 5.85-inch and 6.46-inch sizes.
The report said the displays are expected to be used in new iPhone models released in 2018, although Apple's plans could change.
With a nearly 6.5 inch display, the so-called iPhone 9 would have an even larger screen than the 6.3-inch Galaxy Note 8 introduced earlier this month. Meanwhile, the 5.85-inch version would likely be the same size as the iPhone 8.
With reduced bezels, the overall physical sizes of the 5.85-inch and 6.46-inch iPhones could be similar to the iPhone 7 and iPhone 7 Plus respectively.
In May, South Korean publication The Bell reported that Apple was planning to launch new iPhones with 5.28-inch and 6.46-inch OLED displays next year, but ETNews claims development of the 5.28-inch size has been abandoned.
"This is because consumers have preferred to use a large screen, and technologies such as full-screen or bezel-less have been developed that can enlarge the display while keeping the overall size of the smartphone small," it said.
The bottom line here is a second source lending support to rumors of a 6.4-inch iPhone launching next year. It might seem early in the cycle, but iPhone 8 rumors first surfaced in March 2016, nearly a year and a half ago.