Twelve South today announced the launch of the Curve, a new stand based on a simple, classic design.
Described as an "elegant" stand that's designed to complement the lines of an Apple notebook while elevating it to an ideal angle, Curve comes in a matte black aluminum that matches well with the Space Gray MacBook models.
Curve elevates the screen by 6.5 inches while keeping 70 percent of the base of the MacBook exposed through its open bottom, which allows for better cooling.
According to Twelve South, the Curve is based on the iCurve, the first stand ever designed by Twelve South co-founder Andrew Green back in 2003. The new design is also meant to pay tribute to Apple Park, Apple's new campus that houses a ring-shaped main building.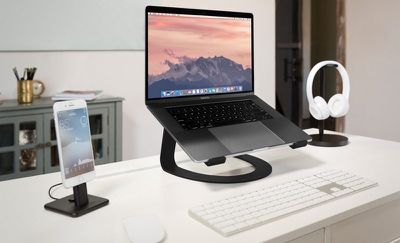 I knew someday I wanted to refresh the classic design for the modern Mac universe. In thinking about bringing it back to market, I visualized Curve as a thin metal ribbon - kind of like a Möbius strip. Utilizing aluminum with a matte black finish, Curve is a fresh remix of the original classic that looks simply stunning, especially when supporting the new Space Grey MacBooks.
Curve weighs in at 1.43 pounds and is a desktop accessory that's designed to work with the latest MacBook and MacBook Pro models.
Curve can be purchased from the Twelve South website for $49.99. It's also available from some Best Buy retail locations.