Upcoming 2017 Google Pixel XL May Feature 'Squeezable' Frame for Activating Google Assistant
Google's second-generation Pixel XL could feature a squeezable body, a 6-inch AMOLED display, and thinner bezels, according to information and rendered images leaked today by Android Police.
LG is said to be manufacturing the Google Pixel XL 2, which features a design that's curved like the original Google Pixel. It continues to offer a rear fingerprint sensor (now located in the aluminum portion of the device) and a large single-lens camera, eschewing the dual-lens camera trend.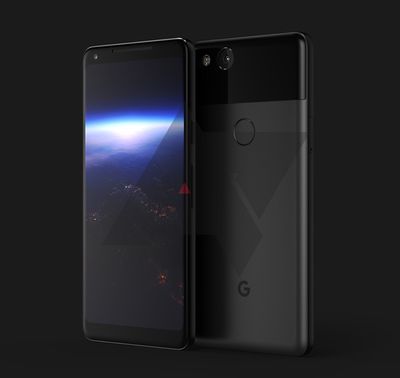 The XL version, which is the only version covered in the leak, offers a 6-inch LG-made display with a 2:1 aspect ratio, rounded corners, and a "minimal bezel." Design wise, it could look a little like Apple's rumored iPhone 8, which is also expected to have a longer design with much thinner side and top/bottom bezels. Current iPhone 8 leaks suggest Apple's device will have little to no bottom bezel and a smaller top bezel, however.
Most notably, the 2017 Pixel XL is rumored to include a "squeezable" frame like the recently launched HTC U11. The technology will let Pixel users squeeze their handsets to activate Google Assistant "in various ways."
In the HTC U11, the "Edge Sense" feature lets people use a squeeze gesture to activate pressure sensors that can turn on the flashlight, launch the camera, take a photo, or launch Google Assistant.
It's not clear when Google's second-generation Pixel XL device will be released, but the original version was unveiled in October of 2016, so a fall release date could be planned. If that's the case, the Pixel XL will launch during the same time frame as the iPhone 8 and could be one of the device's main competitors along with the already-available Samsung Galaxy S8 and the yet-to-be announced rumored Galaxy Note 8.