Rumored Siri Speaker in Production Ahead of Possible WWDC Debut
Apple's rumored Siri smart speaker, which is designed to compete with the Google Home and Amazon Echo, is already in production ahead of a prospective debut at the upcoming Worldwide Developers Conference, reports Bloomberg.
Citing sources "familiar with the matter," Bloomberg says production has already started on the speaker, but it is not expected to be ready to ship until later in the year. Still, Apple could introduce the speaker at WWDC, which kicks off next Monday.
Despite rumors hinting at a touch screen, and comments from Apple marketing chief Phil Schiller questioning the usefulness of an AI-based speaker product without a screen, the upcoming Siri speaker will not feature a display.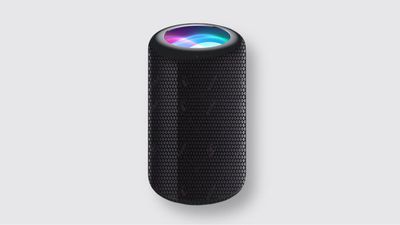 A Siri speaker mockup with a "Mac Pro-like" concave design (Image via iFunnyVlogger)
Instead, Apple will differentiate its speaker from Amazon and Google offerings through deep integration with Apple products and superior sound quality, including virtual surround sound technology. The speaker is said to be louder and "reproduce sound more crisply" than the Home and the Echo, and it could also include sensors for measuring a room's acoustics and adjusting audio levels automatically during use.
As with the Echo and the Home, Apple's speaker will likely support third-party services and apps, allowing it to perform a wide range of tasks. It will also serve as a HomeKit hub.
Introducing a speaker would serve two main purposes: providing a hub to automate appliances and lights via Apple's HomeKit system, and establishing a bulwark inside the home to lock customers more tightly into Apple's network of services.
Inventec, the company that manufactures Apple's AirPods, is said to be manufacturing the speaker, which has, as was previously reported, been tested in the homes of Apple employees for several months.
KGI Securities analyst Ming-Chi Kuo previously said there was a greater than 50 percent chance the speaker would be introduced at WWDC, so we may get our first look at the device next week. Rumors have suggested it will feature a Mac Pro-like concave top with built-in controls and a "fat" body covered in speaker mesh.
Along with the Siri speaker, Apple may also introduce new 10.5 and 12.9-inch iPad Pro models and new Macs at WWDC.