Apple's Siri-Based Smart Speaker Has 'Over 50% Chance' of Debuting at WWDC in June
Apple's widely rumored Siri-based smart speaker and home hub has an "over 50 percent chance" of being announced at WWDC, scheduled for June 5-9, according to often-reliable Apple analyst Ming-Chi Kuo of KGI Securities.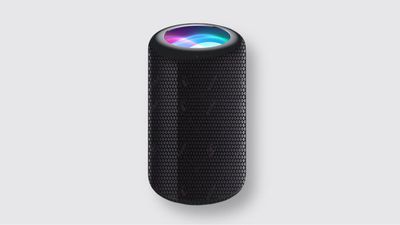 The device is rumored to have a "Mac Pro-like" concave design (Image: iFunnyVlogger)
Kuo said Apple's smart home product will likely launch in the second half of 2017 and cost more than the
Amazon Echo
, $179. The device will supposedly support AirPlay with "excellent acoustics performance" from one woofer and seven tweeters. Kuo said its performance will be similar to the iPhone 6/6s.
An excerpt from Kuo's research note obtained by MacRumors:
We believe there is an over 50% chance that Apple will announce its first home AI product at WWDC in June and start selling in the [second half of 2017] in order to compete with the new Amazon Echo models to be launched […]

We expect Apple's first home AI product will have excellent acoustics performance (one woofer + seven tweeters) and computing power (similar to iPhone 6/6S AP). Therefore the product is likely to be positioned for: (i) the high-end market; (ii) better entertainment experience; and (iii) higher price than Amazon Echo.
Last week, leaker Sonny Dickson likewise said Apple's smart speaker could be announced as early as WWDC. He said the device will run a variation of iOS with unspecified Beats technology, in addition to a Mac Pro-like concave top with built-in controls and speaker meshing covering the majority of its surface.
Apple's plans for a smart home device and Amazon Echo competitor were first revealed by The Information in May 2016, and Bloomberg reported that the device had entered prototype testing in September.
The latter report said Apple's smart home device would be able to control appliances, locks, lights, and curtains through Siri voice commands. It added that some of the prototypes in testing have facial recognition sensors, in line with a CNET report claiming the device could have a built-in camera.
Kuo said Taiwan-based Inventec will be the exclusive speaker supplier, including both the woofer and tweeters.