Apple VP Phil Schiller Implies Voice-Activated Smart Speakers Could Benefit From a Screen
Gadgets 360 published an interview with Apple SVP of Worldwide Marketing Phil Schiller this week that could shed some light on Apple's plans for a dedicated Siri-based voice-assistant for the home. Rumors have swirled in recent weeks about Apple's plans to unveil an Amazon Echo-like smart connected speaker, possibly as early as WWDC in June, so Schiller's thoughts on the topic could potentially relate to the way Apple is approaching the design of its Echo rival.
During the interview, Schiller demurred when asked what he thought about Amazon's Echo and Google Home, but his comments clearly imply that the two speakers leave a lot to be desired: "My mother used to have a saying that if you don't have something nice to say, say nothing at all." More revealingly perhaps, Schiller took pains to distinguish between different usage scenarios for voice assistants: handsfree, such as while driving, when simple voice-activation is convenient – but limited – and most other occasions when the availability of a screen is preferred.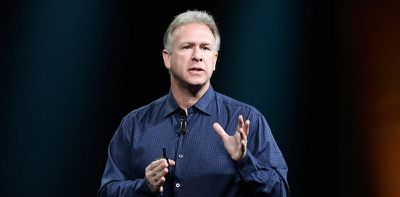 "We think it's important that there are times when it's convenient to simply use your voice when you are not able to use the screen," said Schiller. "For example, if you're driving [and] you want Siri to work for you without having to look at the screen, that's the best thing. Or maybe you're across the room, and you want to ask Siri to change the song you're listening to."

So there's many moments where a voice assistant is really beneficial, but that doesn't mean you'd never want a screen. So the idea of not having a screen, I don't think suits many situations. For example if I'm looking for directions and I'm using Maps, Siri can tell me those directions by voice and that's really convenient but it's even better if I can see that map, and I can see what turns are coming up, and I can see where there is congestion, I understand better my route, and what I'm going to do.
Schiller continued his argument for voice assistants with screens using the example of photography and photo sharing. "With all the social networking apps that are now embracing photos more and more, well, it doesn't work really so great in voice-only assistants," said Schiller. The same goes for games, he said, calling them the "biggest category of all".

I have yet to see any voice-only games that, for me, are nearly as fun as the one that I play on my screen. And so I think voice assistants are incredibly powerful, their intelligence is going to grow, they're gonna do more for us, but the role of the screen is gonna remain very important to all of this.
Schiller ended his comments on the topic by calling the dual role of voice-assistants "an interesting discussion", especially with respect to "when each is appropriate, and what they can do in our lives".
It's unclear how Schiller's comments fit in with the recent uptick in rumors that Apple is working on a Siri-based smart speaker for the home. Often-reliable analyst Ming-Chi Kuo of KGI Securities has said the product will double up as an AirPlay speaker and feature a custom W1 Bluetooth chip for easy pairing, while Sonny Dickson has suggested the device will run a variation of iOS and have a Mac Pro-like concave top with built-in controls. However, none have claimed Apple is working to integrate a screen into the device.
By contrast, recent alleged leaks have suggested Amazon's next-generation Echo could have a built-in touchscreen and camera with the potential to support phone and video calls.
In the Gadgets 360 interview quoted from above, Schiller also spoke about other topics, including Apple's Swift programming language, and the company's app subscription model as it relates to developers and users of the App Store. You can read the full interview here.