Apple today announced a deal to move all of its operations in Singapore to 100 percent renewable energy, working with partner Sunseap Group to take advantage of rooftops in the densely populated city-state for solar power generation, reports Reuters.
Starting in January, solar energy developer Sunseap Group will provide Apple with 100 percent renewable electricity from its portfolio of solar energy systems built atop more than 800 buildings in Singapore.

The deal will make Apple the first company in Singapore to run exclusively on renewable energy and marks a significant step in its bid to power 100 percent of its facilities and operations worldwide with clean fuel.
The Sunseap project, made possible through financing from Apple, will generate a total of 50 megawatts of solar power from rooftops, with approximately 33 megawatts going to Apple and the remainder being used for other customers including public housing.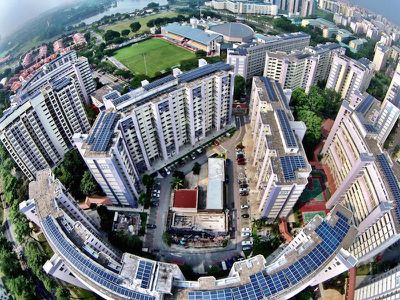 As part of today's announcement, Apple also confirmed it is working toward opening its first retail store in Singapore, although it did not provide a timeframe for the store's opening.
Word of an Apple store in Singapore surfaced last month when fitness chain Pure Fitness announced its location in the Knightsbridge shopping center will be closing next month to make way for an Apple store planned to open in late 2016. Four other stores in the center are also moving out to help make room for Apple. The company began hiring for one or more retail stores in Singapore late last week.