iPhone 8 to Feature 5.8-Inch OLED Display With 5.15-Inch Main Screen and Virtual Buttons Below
The upcoming 2017 iPhone will feature a 5.8-inch display with 5.15 inches of usable screen space according to new predictions shared by KGI Securities analyst Ming-Chi Kuo. Kuo believes the iPhone 8 will use a 5.8-inch OLED display panel, but that some space will be reserved for virtual buttons.
As has been rumored, the display is said to take up the entire front panel of the iPhone, effectively eliminating bezels, which means Apple will eliminate both the current Home button and the current Touch ID fingerprint recognition technology used in iPhones.
Size wise, Kuo says the OLED iPhone will have measurements similar to the 4.7-inch iPhone, allowing for one-handed operation. Such a size is possible with a 5.8-inch panel because there will be no extra space outside of the display, as can be seen in the mockup below. It will feature a display similar in size to the 5.5-inch iPhone, but in a 4.7-inch package.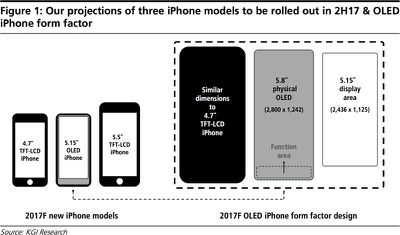 Alongside the 5.8-inch OLED iPhone, Kuo continues to believe Apple will also offer standard 4.7-inch and 5.5-inch LCD iPhones, but it is not yet clear what features those devices will adopt. In previous research notes, Kuo has said they will include glass bodies and wireless charging, but he has not gone into detail on other potential features. He does, however, say that the OLED iPhone will be "the only bright spot" in the 2017 iPhone lineup, suggesting only minor improvements for the other two rumored devices.
Because the OLED iPhone will eliminate the Home button, it is expected to adopt "other biometric technologies," which other rumors suggest could include things like iris or facial recognition.
Battery life may also be another major change in the OLED iPhone, with Apple expected to introduce a stacked logic board design to support bigger batteries and longer battery life. In today's report, Kuo says the iPhone 8, though similar in size to the 4.7-inch iPhone 7, will feature a battery capacity similar to the larger 5.5-inch iPhone 7 Plus.
With the radical design changes, battery improvements, and the new biometric features, Kuo expects the OLED iPhone to cost in excess of $1,000, a pricing rumor that was also shared by Fast Company last week. Kuo does not expect the high price point to significantly impact sales due the "innovative user experience" offered by the device.
He believes Apple will ship 100 million iPhones during the second half of 2017, with 60 percent of those to consist of the higher-end OLED iPhone.