New Report Suggests Apple Could Delay 'iPhone 8' Launch to October or November
Apple could delay its rumored high-end iPhone with a 5.8-inch edge-to-edge OLED display until October or even November, according to a new report out on Wednesday.
In recent years, Apple has released its iPhone updates in September, but according to Chinese-language Economic Daily News (EDN), suppliers are encountering "technical issues" in the production of the upcoming "iPhone 8" because of differences in the display lamination process and challenges involved in integrating the 3D sensing front camera system.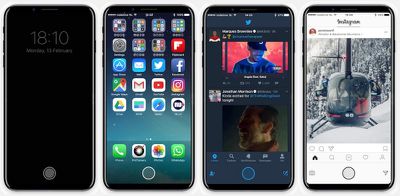 The report tallies with a rumor that circulated last month suggesting the iPhone 8 may go on sale later than usual, due to the switch to an OLED display and the new technology needed. In such a scenario, the launch of an iPhone 7s and 7s Plus would go ahead in September as scheduled, with the higher-end iPhone 8 coming later in the year.
Such a staggered release would be highly untypical of Apple, and it's hard to imagine the company holding a September launch event for "S" cycle iPhones with no mention of the highly rumored OLED device. However, it is possible the higher-end phone could be revealed at the same time but launched in limited quantities or at a later date. Barclays analysts recently claimed that Apple will launch its "10th anniversary iPhone" in the usual September timeframe, albeit in short supply until a full stock arrives in the fourth quarter.
Earlier this week it was reported that Apple has placed an order for 70 million OLED panels from Samsung, anticipating high demand. Samsung is preparing to be able to produce up to 95 million panels in 2017, said the sources.
Market watchers are said to be analyzing the pull-in of orders for passive components from the iPhone's supply chain to see whether production of the new iPhone devices is on track, according to EDN. Apart from the edge-to-edge OLED display, the "iPhone 8" is expected to include wireless charging, no physical Home button, and perhaps 3D facial recognition and/or iris scanning. In addition, rumors suggest that Touch ID could be embedded in or under a True Tone display.
(Via DigiTimes.)