Apple Places Order for 70 Million OLED iPhone Panels From Samsung
Production on the 2017 iPhone is moving along, with Apple recently having placed orders for 70 million OLED panels, reports Nikkei. Samsung, as we already know, will be Apple's sole OLED supplier, and will provide Apple with the panels.
Demand for the 2017 iPhone, which is expected to feature a major design overhaul with an edge-to-edge display, glass body, and a premium price tag, is expected to be high as it typically is in a year when a new look is unveiled. Apple and Samsung are gearing up to meet demand with the large panel order.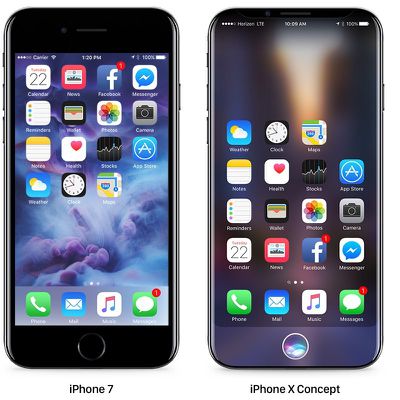 Nikkei's info comes from a supply chain source and also matches with estimates provided by IHS Markit analyst David Hsieh.
"Apple has ordered 70 million units of OLED panels from Samsung this year, while Samsung is preparing to churn out as many as 95 million for Apple in 2017, in case demand exceeds expectations," Hsieh said.
There have already been rumors suggesting the OLED iPhone will be in short supply when it launches in September, with the majority of the stock unavailable until later in the year, and Hsieh also believes that could be the case. "It is also possible that some of these 70 million handsets will not be shipped to customers this year and be carried over to next year depending on demand," he said.
Nikkei's industry source, in addition to covering panel orders, also shared some details on the upcoming device that echoes many rumors we've heard in the past.
The site believes we will see a premium OLED iPhone with a 5.2-inch screen and no home button, which will be sold alongside standard 4.7 and 5.5-inch devices with LCD screens and home buttons. All three iPhones will include wireless charging functionality (lately said to be inductive) and waterproofing, while at least one model, presumably the OLED iPhone, will include a 3D sensor that supports facial recognition.
Other features rumored for the iPhone 8 not mentioned in Nikkei's report include camera improvements, a faster and more efficient A11 processor, Touch ID built into the display, True Tone ambient light adjustment, and perhaps augmented reality functionality enabled through the camera.