In the midst of a flood of reveals and announcements surrounding the Mac Pro and iMac, Apple today gave a hint as to what the upcoming Mac Pro will be able to accomplish for high-end, professional users. Although little information was given about the revamped Mac Pro, Phil Schiller described it as the "highest-end" desktop system the company has created yet, and that it will be "designed for our demanding pro customers."
TechCrunch asked Craig Federighi, Apple's senior vice president of software engineering, what the boost in the "pro" aspect of the Mac Pro will mean for the company's power users. In response, Federighi mentioned software capabilities in the virtual reality space, as well as tasks centered on high-end cinema production.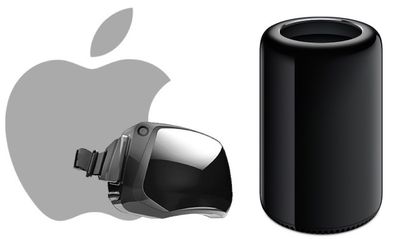 I ask who, exactly, the pro customers are that needed the more powerful GPU in a Mac Pro most.

"There's certain scientific loads that are very GPU intensive and they want to throw the largest GPU at it that they can," says Federighi. "There are heavy 3D graphics [applications] or graphics and compute mixed loads. Those can be in VR, those can be in certain kinds of high end cinema production tasks where most of the software out there that's been written to target those doesn't know how to balance itself well across multiple GPUs but can scale across a single large GPU."
Virtual reality is a noticeable shortcoming of Apple's current Mac Pro line, as well as its iMac desktop computers. Although Federighi doesn't go into any more detail about how VR support might function on the Apple ecosystem -- including which headsets will be supported, and what software will take advantage of VR -- it's an interesting tidbit of information regarding the upcoming Mac Pro line launching sometime after this year.
In regards to virtual reality and augmented reality, in recent reports Apple has been more closely aligned with development on the latter technology, which doesn't require a cumbersome headset and can be used with technology already on modern smartphones, as it was in Pokémon Go. Still, specific hardware has been rumored to be in the pipeline by Apple, most recently including an Apple-branded pair of AR glasses that would connect to iPhones and "show images and other information in the wearer's field of vision," but they're predicted to be far from launch.
Apple has filed a collection of patents focused on virtual reality headsets that could in theory function with an all-new Mac Pro, but such filings have slowed down in recent years among Apple CEO Tim Cook's well-known preference for AR over VR. Over the past few months, Cook has referred to AR as everything from a "profound" piece of technology that could "amplify" human contact to an idea that could result in a paradigm shift as "huge" as smartphones.
Rumors currently suggest that Apple's AR glasses could launch in 2018, but any news regarding an Apple-branded VR headset have been quiet for over a year. As such, it's likely that the upcoming Mac Pro will support third-party VR headsets from companies already in the market.