Apple Has Secret Team Working on Virtual Reality Headset
Apple has expanded its research efforts in virtual and augmented reality, building out a large team that is experimenting with headsets and other technologies, reports Financial Times in a detailed post on the company's virtual reality work that covers recent hires and acquisitions.
Hundreds of employees are part of a "secret research unit" exploring AR and VR, with the team consisting of experts hired through acquisitions and poached from Microsoft and Lytro, the company that developed the Immerge, a Light Field power camera able to blend live action and computer graphics for a live action VR experience. Apple has also hired Doug Bowman, said to be one of the leading virtual reality experts in the United States.
In addition to recent AR/VR-related acquisitions Metaio, Faceshift, and Emotient, Apple has also just purchased Flyby Media, a startup that worked on augmented reality technologies. Flyby Media created an app that worked with Google's "Project Tango" smartphone with 3D sensors, allowing messages to be attached to real world objects that were then viewable by one of Google's devices.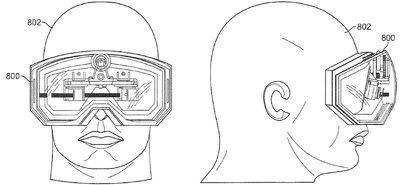 Most notably, Apple's AR/VR team is said to have built prototype virtual reality headsets that are similar to the Oculus Rift and the Hololens from Microsoft. Multiple prototypes of "possible headset configurations" have been created in recent months, with Apple's interest reportedly inspired by the Oculus Rift.
It is not clear if and when Apple's work on a headset prototype will make it past the development stage into an actual product, and the company often secretly works on technologies that never see the light of day. The scope of what Apple is building is also unknown, but Financial Times says that the company's work could potentially be useful for the Apple Car project.
Apple has had a team working on virtual and augmented reality technologies since at least early 2015, when rumors suggested there were a small number of employees investigating how Apple could incorporate the technologies into its products. Apple's interest in virtual reality dates back much further, however, and Apple has filed multiple patents over the years, for products like video goggles, motion-sensing 3D virtual interfaces for iOS devices, and 3D "hyper reality" displays.
Apple CEO Tim Cook was recently questioned on whether he believed virtual reality could go mainstream. He explained that he does not see virtual reality as a niche product, describing it as "really cool" with "some interesting applications."