Apple Releases iOS 10.3.1 to Address Wi-Fi Vulnerability
Just one week after releasing iOS 10.3, a major update that included Apple Filesystem and Find My AirPods, Apple has released iOS 10.3.1, which appears to be a minor update to address bugs and other issues that have popped up since the release of iOS 10.3.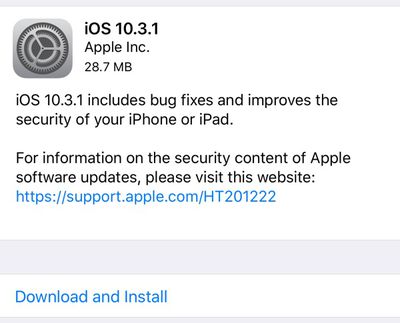 iOS 10.3.1 is available as a free over-the-air update for all iOS 10 users, and it can also be downloaded via iTunes.
According to Apple's release notes, iOS 10.3.1 includes bug fixes and improves the security of your iPhone or iPad, and a security document suggests it fixes a Wi-Fi-related vulnerability. The release notes do not go into more detail about what bug fixes might be bundled into this release, so we'll update this post if and when we learn more about the content of the iOS 10.3.1 update.