'iPhone 8' Still Expected to Launch in September in Limited Quantities
Apple's widely rumored high-end iPhone with a 5.8-inch edge-to-edge OLED display will launch in September, although the majority of stock may not be available until later in the fourth quarter, according to the latest research from Barclays analysts Blayne Curtis, Christopher Hemmelgarn, Thomas O'Malley, and Jerry Zhang.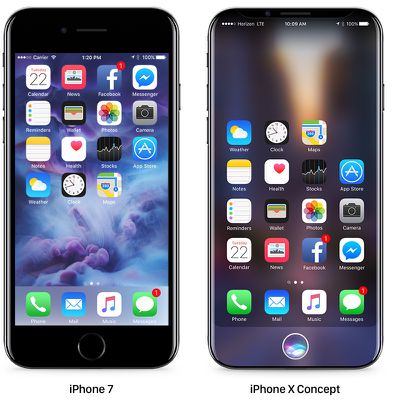 The prediction suggests that Apple's tenth-anniversary iPhone, which has been variously dubbed the iPhone 8, iPhone X, iPhone Pro, or iPhone Edition, will still be available in limited quantities in September. However, shipping estimates could slip to several weeks out just minutes after pre-orders begin.
What do you think Apple's rumored "special edition" iPhone will be called? Tweet us your own ideas. — MacRumors.com (@MacRumors) March 18, 2017
An excerpt from the Barclays research note obtained by
MacRumors
:
Suppliers generally had good things to say about the upcoming iPhone 8 launch (for our purposes iPhone 7s, iPhone 7s Plus, and iPhone Pro) as new features drive a more complicated manufacturing process and higher ASPs. We now believe that all three devices will feature wireless charging and will all be launched in the normal September timeframe, although the majority of iPhone Pro volumes may not be available until Q4.
Barclays contradicts a recent report that claimed the 5.8-inch iPhone will be announced alongside updated 4.7-inch and 5.5-inch models, or the so-called iPhone 7s and iPhone 7s Plus, but might not go on sale until much later.
By the sounds of it, availability of Apple's first iPhone with an OLED display could be similar to the iPhone 7 Plus in Jet Black, which was virtually nowhere to be found through the holiday shopping season last year. When an Apple Store or reseller happened to get a few Jet Black models in stock, they sold out almost instantly.
The analysts, citing information from Apple's supply chain following a trip to Asia earlier this month, also reiterated their expectations for the 5.8-inch iPhone. Many of its predictions echo those already made by KGI Securities analyst Ming-Chi Kuo, who has a respectable track record at revealing Apple's plans.
Barclays said the phone will feature a 5.8-inch display with 5.15 inches of usable screen, as Kuo said. It expects Touch ID to be embedded in the display, and the remaining space could be for virtual buttons. It believes the device will have wireless charging, but wireless charging accessories will be sold separately.
It said the 5.8-inch iPhone's stacked logic board design will provide more space for a larger battery and other components, as Kuo previously said. Other features Barclays expects include a front-facing 3D sensor module, the same dual camera setup as the iPhone 7 Plus, and a film-based Force Touch solution.