U.S. airlines will no longer have to make a pre-boarding notification to passengers that the Samsung Galaxy Note7 is prohibited on aircraft, it was announced yesterday.
In a statement on its website, the Federal Aviation Administration said it was dropping the requirement because public awareness that the banned Note7 was a fire risk was deemed to have reached a sufficient level, thanks in part to extensive recall efforts by Samsung and smartphone providers.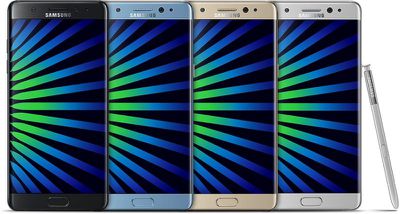 The Department of Transportation removed the requirement for air carriers to specifically notify passengers about the Note7 phone immediately prior to boarding due to the high degree of public awareness of the ban since issuance of the emergency restriction/prohibition order, as well as the extensive efforts by Samsung and U.S. wireless providers to make all Note7 users aware the phone is recalled and banned from transport on U.S. aircraft. 
Following the announcement, Samsung released a statement claiming that over 96 percent of Note 7 devices have been returned so far. U.S. carriers have sent out an end-of-life software update to handsets that remain in circulation, rendering the devices unable to charge. Meanwhile, Samsung has said it will release a report later this month detailing the results of its investigation into what caused some handsets to explode or catch fire while charging.
Samsung appears to have weathered the storm of last year's Note7 debacle, after officially halting sales of the phone worldwide in early October and discontinuing the model. Despite Apple phones outselling Samsung phones two to one over the holiday period, iPhone 7's lack of "compelling" features is said to have convinced most Galaxy Note7 owners to stay with Samsung.

Purported leaked image of the Galaxy S8 expected to launch in April (Image: Weibo)
According to one
report
on Tuesday, Samsung has refused to give up on the Galaxy Note name, due to the historical popularity of the brand in the "phablet" category, and a Note8 is currently being readied for launch later this year.
Samsung is currently focusing on the Spring launch of its flagship Galaxy S8, which is rumored to include a "Bixby" AI voice assistant – based on its acquisition of Viv – and is said to have a home button embedded in its edge-to-edge display. The company is reportedly aiming to ship 60 million S8 units by the end of the year.