Fire on Plane Caused by Replacement Samsung Galaxy Note 7
Over the past few weeks, Samsung has been replacing recalled Galaxy Note 7 smartphones that have faulty exploding batteries with new devices, but an incident today suggests the South Korean company's smartphone woes aren't over.
A Southwest flight from Louisville to Baltimore was today evacuated just before it pulled out of the gate because a Samsung Galaxy Note 7 smartphone started smoking. While no one was injured, there is a serious problem -- the Galaxy Note 7 in question was a replacement device that had been deemed "safe" by Samsung.
According to The Verge, the owner of the Galaxy Note 7, Brian Green, had replaced his original Galaxy Note at an AT&T store on September 21. The smartphone had a green battery icon and box the device came in features a black square, both of which are indicators of a replacement Note 7.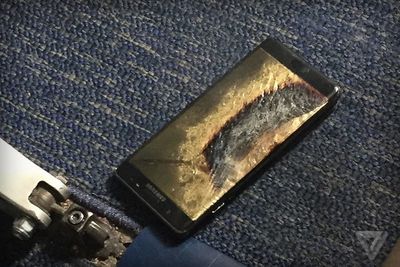 Green told The Verge he had powered down the phone as requested by the flight crew and stowed it in his pocket before it started smoking.
He dropped it on the floor of the plane and a "thick grey-green angry smoke" was pouring out of the device. Green's colleague went back onto the plane to retrieve some personal belongings and said that the phone had burned through the carpet and scorched the subfloor of the plane.

He said the phone was at around 80 percent of battery capacity when the incident occurred and that he only used a wireless charger since receiving the device.
Samsung has already replaced more than one million Galaxy Note 7 devices, and has said the new Note 7 smartphones have batteries "that are not vulnerable to overheating and catching fire." Despite the recall, reports of overheating devices are circulating on a near-daily basis, and the company could have another disaster on its hands if replacement devices are also experiencing the same issues.
Rumors have suggested Samsung's Note 7 problems began after the company rushed the device into production after realizing the iPhone 7 would not feature major design changes, seeing it as an opportunity to one up Apple. Suppliers were pushed to meet tighter deadlines for an earlier launch, leading to critical oversights.
Samsung America president and COO Tim Baxter apologized to customers in September. "We did not meet the standard of excellence that you expect and deserve," he said, adding that Samsung is working to earn back customer trust.