Samsung to Reveal Results of Galaxy Note7 Fire Investigation Later This Month
Samsung will announce later this month the results of an investigation into what caused some of its Galaxy Note7 smartphones to catch fire, according to South Korean newspaper JoongAng Ilbo.
Samsung launched the Galaxy Note7 in late August and, shortly after, user reports began circulating about devices that exploded or caught on fire while charging. At the time, the company said the underlying issue was "problematic" batteries installed in a very limited number of the smartphones sold.
Rumors suggest Samsung pushed suppliers to meet tighter deadlines for an earlier launch, in order to beat the iPhone 7, leading to critical oversights that led to some batteries catching fire. In October, Samsung said it was examining all aspects of the smartphone, but noted it was not yet able to reproduce the problem.
Samsung issued a Galaxy Note7 recall in September, and permanently discontinued the smartphone in October after some replacement devices caught fire. Samsung has urged customers to return their Galaxy Note7s immediately, and in December began seeding a software update to prevent unreturned devices from charging.
Samsung faces the challenging task of regaining consumer trust after the Galaxy Note7 safety risks, which led to the smartphone being banned on all U.S. flights. Airlines are required to disclose the Galaxy Note7 ban prior to takeoff on every U.S. flight, inevitably damaging the reputation of Samsung's brand.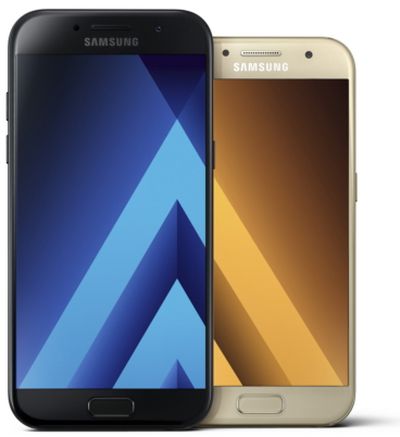 Looking forward, the company today announced a trio of new mid-tier Galaxy A smartphones, including the 5.7-inch A7, 5.2-inch A5, and 4.7-inch A3 models. The latest A models feature metal frames and 3D glass backs, improved 16-megapixel cameras, IP68 water and dust resistance, and longer battery life.
Samsung said the refreshed Galaxy A series will be available in Russia in early January, followed by other global markets. Pricing has yet to be announced.