Samsung Again Rumored to Be Exclusive Supplier of 5.8-Inch OLED Displays for 2017 iPhone
Samsung Display has again been rumored as the exclusive supplier of OLED panels for the 2017 iPhone, according to new claims made by sources in the Taiwan supply chain (via DigiTimes). Back in April, The Korea Herald reported that Samsung would supply Apple with OLED panels in 2017, furthering rumors from as early as January that Apple and Samsung were in talks for an OLED manufacturing partnership.
Next year's iPhone is said to come in 4.7-inch, 5.5-inch, and 5.8-inch sizes, with the last model believed to be the only iPhone with an OLED display. The OLED version's actual touch-sensitive screen real estate may in fact be closer to 5.5-inches, or possibly 5.1- and 5.2-inches, if the rumor of a curved display is true.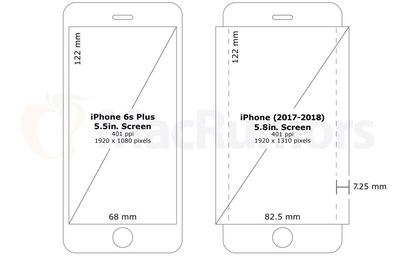 Samsung's current estimates place the company at manufacturing 20 million units per month, according to the supply chain sources. The company's shipments of OLED units are estimated to reach 590 million by 2019. As for benefits, OLED screens can be brighter, clearer, and lead to more energy efficient iPhones.

Samsung Display will become the exclusive supplier of AMOLED panels for use in Apple's new iPhone devices to be launched in 2017 and can supply 20 million units in maximum a month, according to Taiwan-based supply chain makers.

Apple will launch 4.7-, 5.5- and 5.8-inch new iPhone models in second-half 2017, with TFT-LCD panels to be used in the former two models and AMOLED for the 5.8-inch one, the sources said. Global shipments of the AMOLED iPhone in 2017 are estimated at 60-70 million units, the sources noted.
In a separate DigiTimes report posted today, Wistron is believed to be a potential third partner for the manufacturing of the 2017 iPhone, following Foxconn and Pegatron. Wistron was previously rumored to be part of Apple's diversification in its supply chain this year, but it seems like the company was left out of iPhone 7 manufacturing. In the past, Wistron helped supply the iPhone 5c and iPhone SE.