Larger 5.8-Inch OLED iPhone Screen Could Allow for Wraparound Display [Updated]
A DigiTimes rumor shared this morning pointed towards the possibility of a future 5.8-inch display in an iPhone, a significant size increase over the existing 5.5-inch display of the iPhone 6s Plus.
Rumor sites have expressed some skepticism over the idea of a 5.8-inch iPhone, but when looking at Apple's rumored work on flexible OLED displays and patents the company has filed, there is at least one plausible explanation for a 5.8-inch display -- it wraps around the sides of the device.
DisplayMate's Ray Soneira speculates that Apple could be planning to implement "folded edge side screens" on a future iOS device using a flexible OLED display. Such a display would fully eliminate side bezels on the iPhone and would also perhaps implement special buttons or gestures that could be used to control functions on the iPhone using the sides of the device.
Samsung offers phones that have a distinctly curved display with a side bar and its most recent device in that vein is the Samsung Galaxy S7 Edge. The S7 Edge curves downward at one side, providing users with a toolbar of apps. Soneira believes Apple's implementation wouldn't mimic Samsung's, perhaps using square sides as outlined in a 2011 patent.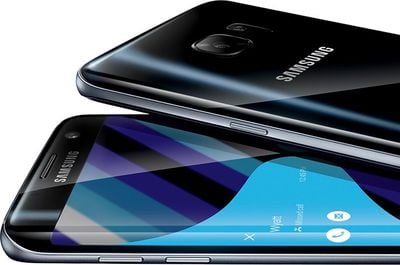 The patent outlines an edge display that's an extension of the main front display, offering virtual buttons, virtual switches, or informational displays that supplement the main display. It consists of a touch-sensitive layer underneath a flexible display layer and in the patent, virtual side buttons have purposes like adjusting volume, or snapping a photo.


In a second patent, Apple has outlined multiple possible shapes for an iPhone that would have a wraparound display, ranging from squared off to cylindrical, suggesting there are many possible directions Apple could go in should it decide to implement wraparound features like these.


Multiple rumors have suggested Apple is working on flexible OLED displays for future devices, with the goal of debuting the first OLED iPhones in 2017 or 2018. In addition to enabling features like dramatic curves, flexible OLED display panels have other benefits, as outlined by Soneira in a recent display shootout covering the Galaxy S7. OLED displays are thinner, lighter, offer better viewing angles, and have the potential to be used with a much smaller bezel.
OLED displays also offer better color accuracy, image contrast, and screen uniformity, and Soneira believes in the near future, OLED products will be foldable and flexible for applications described in Apple's patents.
Because of their very flexible power management capabilities, OLEDs are not only more power efficient than LCDs for most image content, but they now deliver much higher peak Brightness than LCDs because of this. However, for mostly all white screen content LCDs are likely to remain brighter and more power efficient for a while. OLED displays can also be manufactured on flexible substrates, which allows the screens to be curved and rounded like on Samsung's Galaxy Edge and Galaxy Round displays. Right now the curved flexible OLED displays are protected under rigid glass, but in the near future OLED products will be foldable and flexible.
Apple's patents are not typically a useful way to predict the features we'll see in future products, but they do offer a look at the technologies and ideas Apple is exploring. Combined with the rumors that Apple has an intense interest in developing a flexible OLED display for future iOS devices, we can speculate that Apple is at least considering wraparound displays as a future iPhone feature, and today's 5.8-inch iPhone rumor is perhaps one more clue hinting at Apple's OLED plans.
According to Ray Soneira, side screens would be an ideal way for Apple to continue to iterate on future iPhones. "If Apple wants to be leading display innovation with a new OLED iPhone the side screens would really be the best way to do so," he said.
Update: When applied to the height of an existing 5.5-inch iPhone, a 5.8-inch display like the one Apple is rumored to be working on would leave an extra 7.25mm of display on each side that could be used to wrap around the edges of the device. This would extend the display across the front and sides of the iPhone, perhaps enabling side-based gestures and buttons.


We don't know what shape an iPhone with side bars could take, but the rumored 5.8-inch size of the display is about right to add side panels to current-generation iPhones.