Apple Tops Holiday Sales With 44% of All New Device Activations
Apple's iPhone and iPad were the most popular mobile devices gifted during the holidays this year, according to new data shared by Yahoo-owned mobile analytics firm Flurry.
Flurry examined device activations by manufacturer between 12/19 and 12/25, finding Apple devices to be twice as popular as Samsung devices.
44 percent of all new phone activations were Apple iPhones, while Samsung smartphones accounted for 21 percent of activations. Huawei, LG, Amazon, Oppo, Xiaomi, and Motorola trailed behind with between two and three percent of activations each.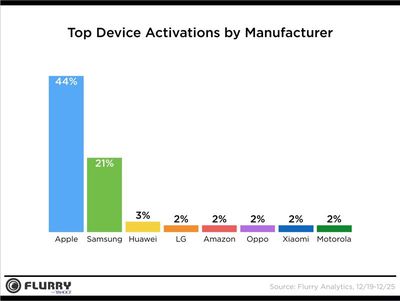 While Samsung is slowly growing in popularity throughout the holiday season, up 1% from last year, Apple devices continue to be the gift to give. Holding the third and fourth positions for activations are Huawei and LG; which is remarkable, as both manufacturers do not have an individual device within the top 35 devices activated. Their high rank is likely due to the fact that they have wide variety of devices and affordable options (hundreds of phablet and medium phones) for consumers to choose from.
Google's Pixel smartphone, which came out in October, did not make Flurry's list.
Last year, Flurry released a similar report, and Apple devices made up 49.1 percent of all device activations, while Samsung devices came in at 19.8 percent.
Phablets, or smartphones and tablets ranging in size from 5 inches to 6.9 inches, continued to grow in popularity. In 2016, the phablets category, which includes the 5.5-inch iPhone 6 Plus, 6s Plus, and 7 Plus, was responsible for 37 percent of total device activations. Medium-sized phones, like the 4.7-inch iPhone 6, iPhone 6s, and iPhone 7, were responsible for 45 percent of all activations. Activations of full-sized tablets, like the iPad, have continued to wane.


To gather its data, Flurry measured smart device activations and app downloads from the hundreds of thousands of apps it tracks from December 19 to December 25.