Apple Working to Put a Stop to iCloud Calendar Spam
Over the course of the last week, many iCloud users have been the target of spam that's delivered in the form of an unsolicited Calendar event invitation, and now Apple is working on a way to stop it.
In a statement given to iMore's Rene Ritchie, an Apple spokesperson said the company working to block spam invites.
We are sorry that some of our users are receiving spam calendar invitations. We are actively working to address this issue by identifying and blocking suspicious senders and spam in the invites being sent.
iCloud calendar spam isn't new, but there's been a serious uptick in calendar spam since last week. Because iCloud calendar invites are sent to an iCloud calendar automatically by default and there's no easy way to ignore them, there's no clear way to stop the spam.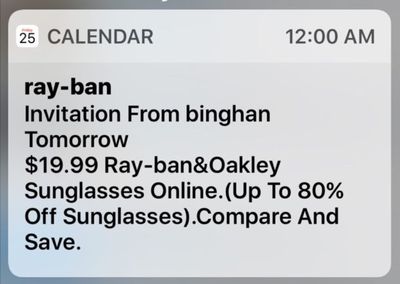 Image via OS X Daily


Declining, accepting, or choosing "Maybe" on an incoming iCloud invite lets spammers know an iCloud email address is valid, so until Apple can put a stop to the spam, there are two fixes. First, by logging in to iCloud via a web browser and accessing the Calendar settings (Click the cog, go to Preferences, then choose Advanced), you can choose to receive all event invitations as email. Emails can be more easily ignored and deleted.
Second, you can create a new Calendar, name it Spam, move the spam invitation to the Spam calendar, and then delete the Calendar entirely. This method does not inform spammers that an event has been declined and does not verify an iCloud account's validity. For more detailed instructions, make sure to check out our how to.
Both iOS users that use the default Calendar app and those who use third-party calendar apps like Fantastical are affected by the spam issue, which appears to be fairly widespread.