Jimmy Iovine Talks Apple Music Exclusives Criticism, Says Service Was 'Too Ambitious'
Apple Music executives Jimmy Iovine and Bozoma Saint John spoke with BuzzFeed News in a new feature about the redesign of Apple's music streaming service, revealing the thinking behind some new features and responding to criticism over music exclusives.
Shortly after launch of Frank Ocean's latest album "Blonde," Universal Music Group banned exclusive music streaming as Ocean's deal with Apple allowed him enough capital to publish his music independently. Iovine told BuzzFeed News that Apple has no plans to become a music label, but that he doesn't know how to run Apple Music any other way than helping make and distribute great music.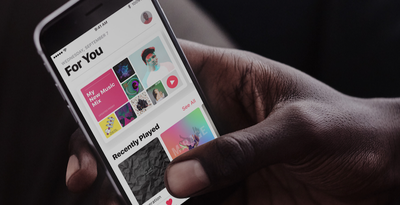 "We put a lot into this, we've had some real successes, and we always hold up our end of the relationship," Iovine said, insisting that he has no intention of encroaching on record labels' territory. "We're feeling our way around and seeing what works … Every time we do [an exclusive], we learn something new." He added that Apple Music would move forward with its pursuit of exclusives from other partners, such as Sony Music Entertainment and the Warner Music Group, noting, "It's Apple's show. As long as Apple's asking me to do what I'm doing, I'm gonna keep doing it."
Iovine went on to say he doesn't know whether music fragmentation, with different services offering different exclusives, would hurt or help the music industry, but he does believe that services that offer free listening tiers are harmful.
"The rights holders, whoever they are, have to do something, because there's a lot of free [music] out there, and it's a problem," he told BuzzFeed News. Iovine says there's enough free music in the world to make people question whether they should subscribe to a service.
Apple Music's new redesign, which favors bigger text and a more simplified layout, is aimed at users who may not have prior experience with streaming services, including older people and international audiences, according to BuzzFeed News. Some changes, like moving the "My Library" tab to the first and most leftward location on the bottom tab, are aimed at making things easier.
Bozoma Saint John said that one of the questions Apple asked itself during the redesign was how people are interacting with their music during a normal day. The Cupertino company tried to figure out what users were looking for within Apple Music and how the company could best serve that.
That includes a new series of algorithm-based playlists for Apple Music. Apple uses iTunes music data, favorites and play counts to determine what to play in the new My Favorites and My New Music Mixes. My Favorites more closely looks at your history, serving up your favorite and most played music, while My New Music serves up recently released songs you like mixed with new music you haven't heard before, flagged by Apple Music editors based on your taste profile. More personalized playlists are coming to the service, but only after extensive testing as Apple wants to vet all possible outcomes within a playlist before releasing it.
Finally, Iovine said the first version of Apple Music was too ambitious, and that the company "probably" put too much into it too soon. He said that Apple is figuring things out now, and that it's slowly moving things forward. Iovine also hinted that there's new stuff coming to Apple Music that he doesn't think anyone "will see coming."
Apple is currently attempting to bolster the video content on its streaming service, creating original programming like Dr. Dre's Vital Signs and reality competition series Planet of the Apps. Apple also purchased the rights to a Carpool Karaoke series and continues to create exclusive music content with artists. Earlier today, Drake released a 23-minute short film titled "Please Forgive Me," which is intended to be a companion piece to his latest album "Views."
The entire feature on Apple Music's redesign can be read at BuzzFeed News.