New Mockup Shows What the Rumored 'Space Black' iPhone 7 Plus Might Look Like
A new set of iPhone 7 images have emerged online, this time showing a mockup of the larger-screened, 5.5-inch iPhone 7 Plus in Space Black (via TechTastic). Earlier in the year, a sketchy rumor hinted that Apple might be introducing a "Deep Blue" color option in the 2016 iPhone lineup, but more recent reports have clarified that "Deep Blue" will ultimately be a darker version of the current Space Gray, now depicted in today's pictures.
Although the Space Black images fall largely in line with recent mockups and image leaks for the iPhone 7, there are a few inconsistencies. The dual-lens camera bump on the iPhone appears slightly less raised than previous depictions of the back of the iPhone 7, and the mockup designates the model as an "S" edition, which has been lacking from any previous reports and remains an unlikely moniker given the name schemes of the current generation iPhone 6s and iPhone 6s Plus.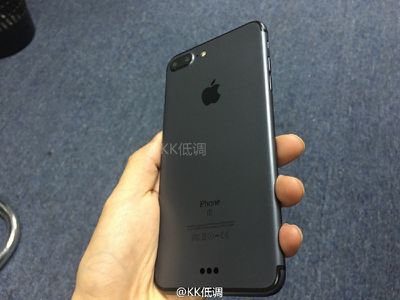 The pictures also include a Smart Connector on the back of the iPhone 7 Plus, which, at best, has been an inconsistent rumor leading up to the launch of the new iPhone next month. More recently, mockups and image leaks have leaned more towards Apple's decision to not include the Smart Connector in the iPhone 7. The feature could also be specific to the 5.5-inch iPhone Plus, or a third "Pro" model.


Elsewhere, the Space Black variant keeps up with rumors of what the iPhone 7 and iPhone 7 Plus will look like: no 3.5 mm headphone jack, two speakers (one likely to be cosmetic), and rearranged antenna bands on the back. Apple might be preparing an all-new, flush Home Button on the next-generation iPhone devices as well. But, like most image leaks, it's hard to be certain in the new pictures whether the Home Button is a new, pressure-sensitive option or just the traditional physical switch.


The new pictures follow a collection of high-resolution photos of a Gold mockup of the iPhone 7 and iPhone 7 Plus that were posted last week. Apple is expected to reveal the iPhone 7 and iPhone 7 Plus on September 7, with pre-orders beginning on September 9 and a potential launch one week later on September 16.