4K Video Emerges Online Depicting Three Versions of iPhone 7
A high-definition video comparing three dummy iPhone 7 models has emerged online, reviving rumors that Apple is set to unveil two different versions of the larger 5.5-inch handset.
The 4K resolution video, picked up today by Dutch blog TechTastic.nl, was posted on YouTube by the account 'Bshop Kuwa', which appears to be linked to a Japanese iPhone reservation store.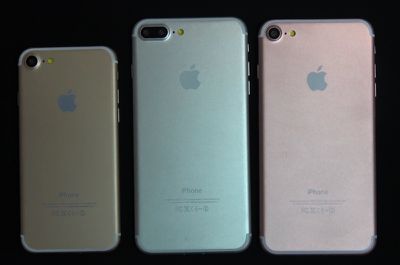 A gold 4.7-inch iPhone 7 is shown beside two larger handsets, one in silver and one in rose gold. One of the two 5.5-inch handsets shown in the video has a single-lens camera, while the other is fitted with a dual-lens.
Early rumors had suggested Apple was working on two versions of the 5.5-inch iPhone 7, earning them the distinguishing monikers 'Plus' and 'Pro', but those rumors died down except for one set of images that appeared in July which briefly revived speculation.
Apple may have been working on two different 5.5-inch prototypes early in the design stage in case of supply issues with a dual-lens camera. If so, this is the most likely cause of the 'Pro' and 'Plus' rumor and at this point we don't believe Apple is set to unveil two versions.
Still, it's interesting to note that the dummy models shown in last month's images showed the iPhone 7 "Pro" model featuring a Smart Connector, whereas the corresponding handset in the latest video has none.
It's also worth noting that all the phones in the video bear the model number A1429, which actually identifies a version of iPhone 5 in Apple's numbering scheme and indicates that these are certainly mockups.


Despite that, this is the best-quality video we've had comparing the likely design of the 2016 iPhone 7 with last year's iPhone 6s, which also makes an appearance. The newer models bear the now familiar hallmarks of other expected design tweaks in store for the iPhone 7, such as repositioned antenna bands, larger cameras, and no headphone jack.
Also, while the models shown here don't tally with an alleged leaked front panel that appeared earlier this week, they do match up with the functional iPhone 7 video that appeared on Thursday.



Apple is expected to launch the iPhone 7 and 7 Plus next month. Pre-orders could begin Friday, September 9, ahead of retail availability on Friday, September 16, according to noted leaker Evan Blass.