iPhone 7 Case Molds Lack Rumored 'Dark Space Gray' Option in New Photo
Alleged photographs of the upcoming iPhone 7 have been popping up online for a few months now, and today Apple news and reviews site Macitynet [Google Translate] has shared one, showing off what the handset will look like in Rose Gold, Space Gray, Gold, and Silver. Following in the footsteps of previous images, the new photo doesn't contribute anything new to the iPhone 7 rumor mill, but it does fall in line with a few design expectations of previous reports.
The picture is said to be of a mold for the iPhone 7, used by case manufacturers ahead of the smartphone's launch to prepare exact measurements for third-party accessories, so it's hard to use today's image as definitive proof of color options for Apple's new iPhone line.
Still, the rumored Dark Space Gray version of the iPhone -- which many believed would help drum up interest in an otherwise fairly slight update year -- isn't included in the new picture, suggesting Apple could keep on with the traditional four colorways, similar to the iPhone 6s and 6s Plus. However, it is also possible that Dark Space Gray could be exclusive to the iPhone 7 Plus or "Pro" (presumably not shown in today's images).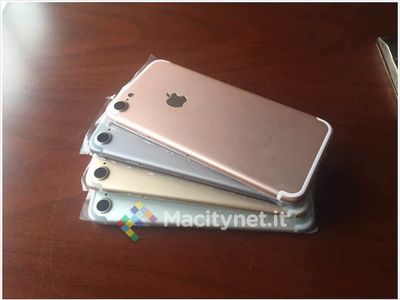 Hardware wise, the iPhone 7's larger camera is again included in the new design molds, appearing nearly identical to a clear shot of the new iPhone posted by French site Nowhereelse.fr earlier in the week. The more substantial, sloping camera is expected to be a major selling point of the iPhone 7, while its 5.5-inch alternative is expected to get an even more beefed-up dual-lens camera with a pill-shaped enclosure, which could put it on the level of some DSLR cameras.
The iPhone 7's antenna bands are also moved in the image, yet again adding confirmation to one of the new iPhone line's longest-running rumors that Apple will redesign the bands so they no longer cut across the top and bottom of the device's backside. As in most other renderings and image leaks, the bands are now lying along the edges of the rear of the iPhone 7.
No Smart Connector is visible on the rear of the top-most Rose Gold iPhone 7 mold, but the image doesn't provide a bottom edge view to corroborate the most popular rumor surrounding the iPhone 7: its potential lack of a 3.5mm headphone jack. Apple is expected to finally divulge information about the iPhone 7 and iPhone 7 Plus during a keynote in September, the traditional iPhone announcement month, so it won't be too long before we know even more about the handsets leading up to their launch.