iPhone 7's Secondary Speaker Holes May Be Purely Cosmetic
While multiple sources and leaked components have pointed towards iPhone 7 models having dual speakers, which could very well be the case, a new design drawing spotted by French website NWE suggests the additional holes may be purely cosmetic to give the bottom edge a symmetrical design.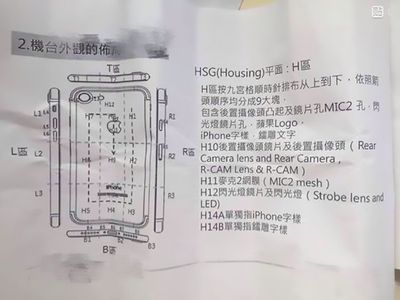 The text in the documents refers to the area that occupies the 3.5mm headphone jack on current iPhones as having simply a microphone and microphone mesh, with no mention of a speaker in that location. Most of the secondary holes would be non-functional, except for the one furthest to the right, which would double as a microphone.
The veracity of the photo cannot be confirmed, and the rumor conflicts with some previous reports, but at least one previous iPhone 7 design drawing has depicted the left speaker grille as ornamental. In the photos, the secondary holes are not cut all the way through except for what would be normally be the microphone hole.


The inclusion of dual speakers or lack thereof will be known for certain in less than a month. Apple is expected to announce the tentatively named iPhone 7 and iPhone 7 Plus on September 7, likely followed by pre-orders on September 9 and retail availability on September 16 in first-wave launch countries.