Apple's Notebook Shipments Rise 30% on Strength of New 12-Inch Retina MacBook
Apple's notebook shipments, including 12-inch MacBook, MacBook Air, and MacBook Pro models, totaled an estimated 3.3 million in the June quarter of the 2016 calendar year, compared to an estimated 2.5 million in the March quarter, according to new data published by market research firm TrendForce.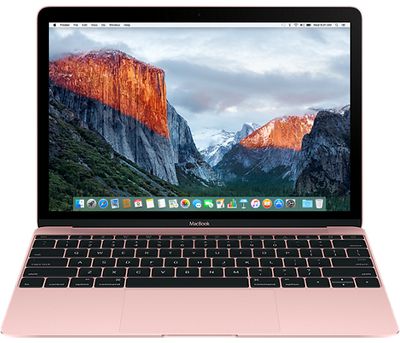 TrendForce attributed the 30.3% sequential increase to the release of new 12-inch MacBook models in April. The ultra-thin notebooks were updated with faster Skylake processors, up to 25% faster Intel HD 515 graphics, faster PCIe-based flash storage, an additional hour of battery life, and faster 1866 MHz memory.
Apple's MacBook shipments in the second quarter were up 30.3% versus the first quarter, placing the brand on the fifth spot of the half-year ranking. This shipment surge was generated by the release of an upgraded 12-inch model of the latest MacBook. TrendForce expects MacBook shipments to register sequential growth in the third and fourth quarter because Apple will also be releasing new products for both periods.
Apple's notebook market share rose to an estimated 8.6% in the June quarter, a slight rise from 7.1% in the March quarter, as most notebook vendors recorded above-expected shipment results due to arrivals of new notebooks and preparations for back-to-school sales in September, according to TrendForce.


Apple surpassed Acer to become the fifth-largest notebook vendor in the June quarter, trailing behind PC makers Lenovo, HP, Dell, and ASUS, but ahead of Acer, Samsung, and Toshiba. Mac notebooks had estimated 7.9% market share in the first half of 2016 overall, a 23.4% year-over-year decline.
Many prospective buyers are still waiting for a new MacBook Pro, expected to feature a slightly thinner design, faster Skylake processors, Thunderbolt 3 with USB-C, Touch ID, and an OLED-based touch screen strip for function keys above the keyboard. At least one higher-end model is said to have AMD Polaris graphics.
A recent report said Apple has been testing the new MacBook Pro since earlier this year, but it is unlikely to launch alongside new iPhones in September. Apple has hosted October media events in the past to introduce new Macs and iPads, including new MacBook Pro models in 2013 and the iMac with Retina 5K Display in 2014.
Apple officially reported 4.25 million Macs sold in the June quarter, including the iMac, Mac mini, and Mac Pro alongside notebooks.