MacBook Pro Lineup Set For 'Most Significant Overhaul in Over 4 Years'
Apple is about to unveil the most significant overhaul of its MacBook Pro lineup in over four years, according to people familiar with the matter (via
Bloomberg
).
Today's claim appears in the second report from the news outlet this week professing
insider information
on Apple's upcoming product plans.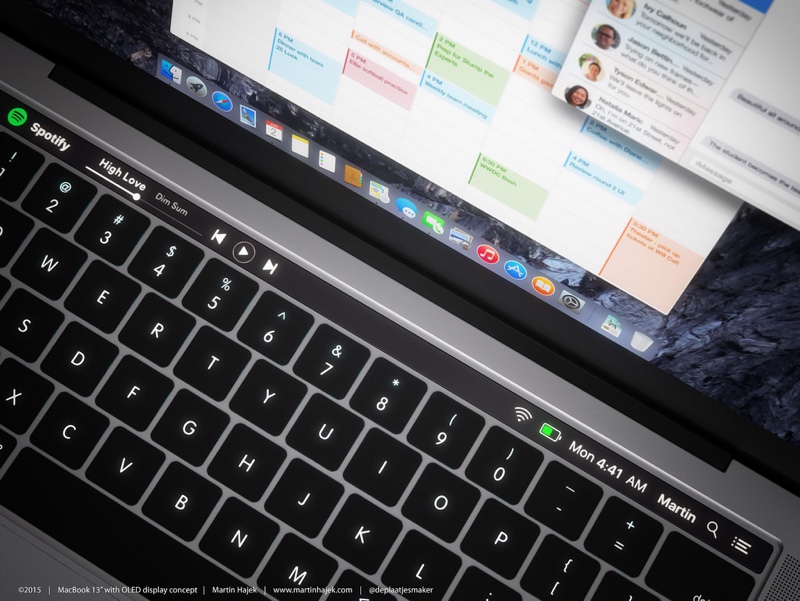 Consistent with previous rumors, the article says the updated notebooks are thinner and will include a touchscreen strip along the top of the keyboard, which is expected to present functions on an as-needed basis that fit the current task or application, as well as
integrate Touch ID
to enable users to quickly log in using their fingerprint.
The new top-of-the-line MacBook Pros will be slightly thinner than the current models but are not tapered like the MacBook Air and latest 12-inch MacBook, one of the people said. The new MacBook Pros have a smaller footprint than current models and the casing has shallower curves around the edges. The pressure-sensitive trackpad is also slightly wider, the person added.
More significantly perhaps, the anonymous source claims the new MacBook Pros will feature more powerful and efficient graphics processors for "expert users such as video gamers".
An option for a version featuring a higher-performance graphics chip from Advanced Micro Devices Inc. will be available, another person familiar with the matter said. It's unclear which provider Apple will use for the main processor, but Intel Corp. has supplied this in the past.

Apple is using one of AMD's "Polaris" graphics chips because the design offers the power efficiency and thinness necessary to fit inside the slimmer Apple notebook, the person said. The new graphics card is more than 20 percent thinner than its predecessor, AMD said earlier this year. AMD declined to comment, referring inquiries to Apple.
As
reported previously
, the switch to the new Polaris 11 architecture is expected to be a significant performance upgrade over the previous 28nm chips, with AMD
promising
"console-class GPU performance for thin and light notebooks" and "extraordinary VR experiences" from the new low-power mobile architecture.
The new design will also include USB-C connectivity that can handle charging, data transfers, and display outputs, according to the source,
corroborating earlier rumors
. Apple is also reportedly considering whether to offer the notebooks in gray, gold, and silver, although it's unclear if colored MacBook Pros will be available on initial release.
The new computers have been in advanced testing since earlier this year, according to the source, although they aren't likely to debut at an event "currently scheduled for September 7 to introduce next-generation versions of the iPhone".
With Monday, September 5 being Labor Day,
previous predictions
 tagged September 6 as the day of Apple's iPhone 7 event, but Wednesday still roughly lines up with Apple's usual pattern for iPhone releases. Last year, Apple announced the iPhone on September 9, started pre-orders on September 12 and released it on September 25. The company may opt to unveil refreshes for the Mac at a separate event later in the fall, perhaps in October.