Latest Alleged Leaked Image of iPhone 7 Depicts Larger Rear Camera
Two images have emerged online this morning allegedly showing the rear cases of an iPhone 7 and 7 Plus leaked from the Chinese supply chain.
The first image posted by French site nowhereelse.fr claims to show the back of the upcoming 4.7-inch iPhone 7 with the expected antenna bands restricted to the edges of the casing, rather than running along the rear.
Alongside the usual microphone and LED flash, it also appears to show a larger protruding camera cut-out, which is consistent with rumors that the device will feature a larger back camera with likely improved CMOS sensor.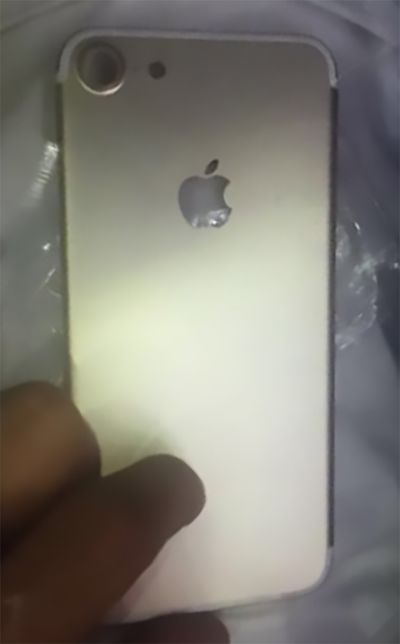 Interestingly, Engadget's take on the same alleged leak cites a couple of claims from its source at Chinese repair shop Rock Fix that we've heard before. One is that the headphone jack is "here to stay" on the 4.7-inch handset, the other is that the iPhone 7 will come in two flavors: a base model to replace the iPhone 6, alongside the expected flagship model.
The first claim comes despite widespread and apparently confirmed rumors indicating that Apple will switch exclusively to Lightning and Bluetooth audio output for wired and wireless headphones.
The second claim appears to be associated with an earlier leaked image from Rock Fix depicting a trio of iPhone 7 and 7 Plus display components that could just as easily be from early prototype stages. Both claims seem unlikely at this late stage in the rumor cycle.


Meanwhile, the alleged shot of an iPhone 7 Plus case depicts the now-familiar pill-shaped camera enclosure, corroborating widely circulated rumors that Apple plans for a superior dual-lens camera to be exclusive to the larger 5.5-inch handset.
In the close-up shown here, the top of the plastic shell enclosing the case also appears to have an unusual opening in the centre. Nowhereelse.fr suggests this could indicate the presence of a sensor or port of some kind, although such an inclusion would be unusual at this location.
Apple is expected to announce the iPhone 7 series in September. The smartphones are also expected to retain iPhone 6s-like designs with faster Apple A10 processors, dustproofing and waterproofing, and faster LTE and Wi-Fi.