Apple Rises to #3 in Annual Fortune 500 Rankings
Apple rose to 3rd place in the annual Fortune 500 list of the top U.S. corporations based on gross revenue, trailing behind only Walmart and Exxon Mobil. Apple's previous rankings include 5th place in 2015 and 2014, 6th place in 2013, 17th place in 2012, 35th place in 2011 and 56th place in 2010.
Other notable carriers, technology companies, and Apple suppliers on the list include AT&T (10th), Verizon (13th), Amazon.com (18th), HP (20th), Microsoft (25th), IBM (31st), Alphabet (36th), Intel (51st), Cisco Systems (54th), Oracle (77th), Qualcomm (110th), Facebook (157th), and Broadcom (331st).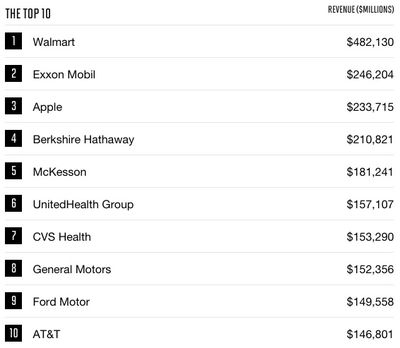 Apple's profile highlighted the company's recent slowdown in iPhone and iPad sales, push into India, and the much-rumored Apple Car.
After more than a decade of solid growth fueled first by the iPod music player and then by the even more popular iPhone, Apple finally appeared to hit a wall. Still the most profitable publicly-traded company in the world, Apple's iPhone 6S and 6S Plus upgrades barely outsold their predecessors after arriving on the market at the end of 2015, while sales of the iPad tablet computer continued to shrink throughout the year. In April 2015, the Apple Watch arrived to mixed reviews and modest sales. And though debate raged for a bit about the state of Apple's sales in China amid a slowing economy there — including an unusual August 2015 email from CEO Tim Cook to CNBC host Jim Cramer claiming no summer slowdown — the year ended on a weak note for the company in Asia. Lately, hopes have turned to the next iPhone upgrade cycle and a push to focus on India, where Apple's market share remains miniscule. Still, even with the growing concerns, Apple's next big leap came into view in 2015. Dubbed Project Titan and staffed with hordes of former car industry experts, Apple's effort to leapfrog the automobile market with an electric masterpiece likely won't reach consumers for a few more years. But when it does, Cook and company could be riding high again.
Apple's revenues topped $233.7 billion during the 2015 fiscal year, a 27.9 percent year-over-year increase. While Walmart and Exxon Mobil posted higher gross revenues of $482.1 billion and $246.2 billion respectively, note that Apple's annual profits of $53.4 billion were more than both companies earned combined.