Apple Rises to #5 in This Year's Fortune 500 Rankings
Fortune has just released its annual "Fortune 500" list, which is a high-profile ranking of the largest companies in the United States ranked by revenue. This year, Apple has taken the #5 spot, up from #6 in last year's rankings and from #17 in 2012.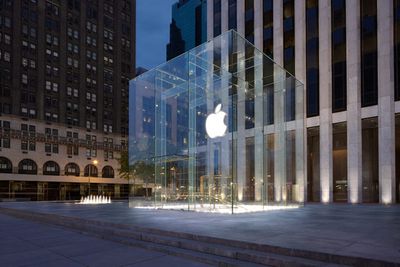 Apple's net sales keep climbing, as the tech giant continues to sell more iPhones and digital content. But the company faces pressure in the smartphone business, as Android phones grow increasingly dominant. Meanwhile, Apple reported an annual drop in net income in fiscal year 2013, a first in more than a decade. Activist investor Carl Icahn last year disclosed a stake in Apple and subsequently pushed for the company to spend billions on share buybacks. In April, the company increased the amount of shares it is authorized to repurchase and raised its quarterly dividend by 8%, and in late May it announced it was acquiring Beats Music and Beats Electronics for $3 billion.
Wal-Mart once again beat out ExxonMobil for this year's #1 ranking, with Chevron and Berkshire Hathaway ranking ahead of Apple's $170.9 billion in revenue. Apple's profit of $37 billion dollars also ranked first among Fortune 500 companies despite falling 11.3% from last year.
Apple announced last week that it would be buying Beats Electronics and the Beats Music streaming service for a total of $3 billion, making it the largest acquisition in company history. Apple is also expected to launch a number of new products this year, including a larger iPhone, new Macs, new versions of OS X and iOS, and an "iWatch" smartwatch.