Apple Again Places #5 in Annual Fortune 500 Rankings
Fortune has released its annual Fortune 500 list of the top U.S. corporations based on gross revenue, which together accounted for $12.5 trillion in revenues, $945 billion in profits and $17 trillion in market value. Apple maintained the 5th spot in the rankings for the second consecutive year after steadily rising from 6th place in 2013, 17th place in 2012, 35th place in 2011 and 56th place in 2010.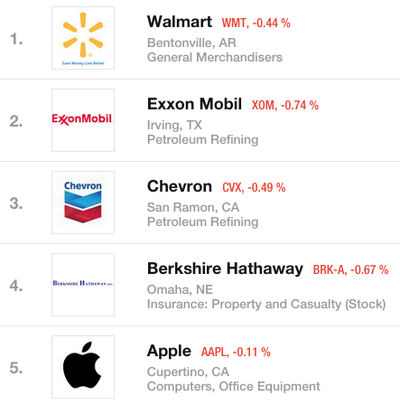 "After a bumpy start to 2014, Apple's stock finished the year up 40%, adding nearly $200 billion to the company's market value. A product pipeline that's gotten Apple fanboys lining up all over again has certainly helped reenergize revenue growth: In addition to unveiling new categories like Apple Pay and Apple Watch, the company launched the iPhone 6, selling a record-breaking 10 million units in the first three days. As CEO Tim Cook recently told investors: "It's tough to find something in the numbers not to like." The normally low-profile Cook is breaking new ground in other ways too—in October, 2014 he came out as the first openly gay CEO of a Fortune 500 company."
Fortune identified fast-growing iPhone and Mac sales and brand power as two of the company's key strengths, while citing declining iPad sales and high expectations from investors and consumers as weaknesses. The publication believes Apple's much-rumored streaming TV service presents an opportunity for the company, while Android and Chinese smartphone manufacturers remain threats.
Apple recorded operating revenue of $182.79 billion during the 2014 fiscal year, a 7% year-over-year increase. Walmart, Exxon Mobil, Chevron and Berkshire Hathaway topped the list with between $194.6 and $485.6 billion revenue, although it's worth noting that Apple finished ahead of all four of those companies with $39.5 billion in profit and recently posted two record-breaking quarters.