Tim Cook Starts India Trip With Temple Visit and Meetings in Mumbai
After arriving in India from Beijing on late Tuesday night, Apple CEO Tim Cook started his five-day trip in the country with a pre-dawn visit to the famous Siddhivinayak Temple in Mumbai on Wednesday, according to The Indian Express. Cook was accompanied by newly promoted Apple India head Sanjay Kaul.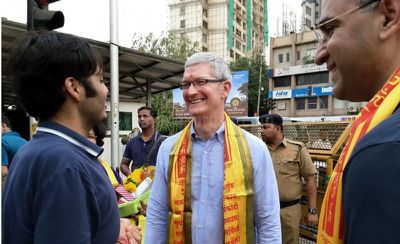 Tim Cook and Apple India head Sanjay Kaul, right (Image: The Indian Express)
Cook proceeded to meet Anant Ambani, the son of Reliance Industries chairman Mukesh Ambani, before holding business meetings with Vodafone India CEO Sunil Sood, Tata Group Chairman Cyrus Mistry, and TCS CEO Natarajan Chandrasekaran, among others, at the luxurious Taj Mahal Hotel where he is staying in Mumbai.
Local media reports claim that Cook also has plans to have dinner with Bollywood actor Shah Rukh Khan at his seaside home in Bandra, a suburb of Mumbai, and meet Chief Minister of Maharashtra Devendra Fadnavis.
Indian website Mid-Day reported that Cook will travel to Hyderabad, India on Thursday, where he is expected to formally announce a $25 million technology development center that will focus on Apple Maps development and house over 150 employees. The CEO is also expected to make stops in Bangalore and Delhi later this week.
Cook is reportedly scheduled to
meet India Prime Minister Narendra Modi
on Saturday before wrapping up his visit. The conversation may center upon the Indian government's recent decisions to
approve single-branded Apple Stores
, which
could open within 18 months
, but
deny the sale of refurbished iPhones
in the country.
Apple's market share in price-sensitive India remains less than 2 percent, but Cook believes the country provides a "really great opportunity" for growth after sales in the U.S. and China have slowed. Apple's revenue grew 56 percent in India last quarter, passing the $1 billion mark for the first time.
Earlier, Apple announced plans to establish a new iOS App Design and Development Accelerator in Bangalore.