Third-Party iPhone 7 Plus Cases Continue Debate Over Smart Connector Inclusion
Following early third-party iPhone 7 cases that surfaced earlier this year, several accessory manufacturers have now begun releasing cases for the larger iPhone 7 Plus, but the cases continue to fuel conflicting rumors over whether the larger model will include a Smart Connector on the rear.
The first case manufacturer, Sunnyc, has a listing for a $9.99 case that includes mockup of the iPhone 7 Plus that shows off the rumored dual-lens camera system with a horizontally-aligned flash (via 9to5Mac). At the bottom of the case's back side, there's a cutout for a Smart Connector, a feature that has been the subject of a number of rumors including both as a potential inclusion on the device and an idea scrapped by Apple.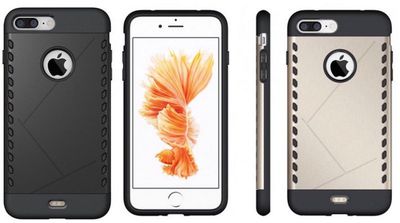 Sunnyc's $9.99 iPhone 7 Plus case
Rumors earlier in the year began
indicating
that the iPhone 7 Plus would feature an iPad Pro-like Smart Connector, which is used to provide simultaneous power and data connections to accessories like the Smart Keyboard. As the expected fall launch of the new iPhone devices grows near, however, Japanese site
Mac Otakara
suggested
Apple has nixed the Smart Connector from its plans -- a rumor SunnyC's case now opposes.
Supporting claims of no Smart Connector for the iPhone 7 Plus is another set of cases that recently surfaced on Alibaba. The simple cases include the same horizontally extended camera opening to accommodate dual lenses, but lack an opening lower on the case for a Smart Connector.


Either way, it remains unclear what advantages including a Smart Connector on the iPhone would bring, considering the iPad Pro's primary Smart Connector-enabled accessory is its $149.00 sold-separately Smart Keyboard ($169.00 for the 12.9-inch model). Possibilities include an interface for battery cases that would not require a "chin" or block the iPhone's Lightning port, a docking station, or a potential wireless charging solution that's paired with a charging pad.
Sunnyc has also posted two case designs for the 4.7-inch iPhone 7 -- both described as a "Protective Silicon Case" -- that offer basic protection and raised edges to protect the front of the device. While one sells for $8.99 and has a cutout for the Apple logo on the back, and the other is going for $11.99 and includes a more uniform, uninterrupted back plate, both are largely unnoticeable as next-generation iPhone cases and do not include cutouts for a Smart Connector.