Early iPhone 7 Case Has No Headphone Jack and Stereo Speaker Cutouts
While the iPhone 7 is not expected to launch until September, French leaker Steve Hemmerstoffer has shared photos one of the first cases prepared for Apple's next-generation flagship smartphone.
The case has a larger cutout for either a traditional camera and LED flash setup, or possibly dual cameras. There are also two openings for stereo speakers in lieu of a 3.5mm headphone jack on current iPhones.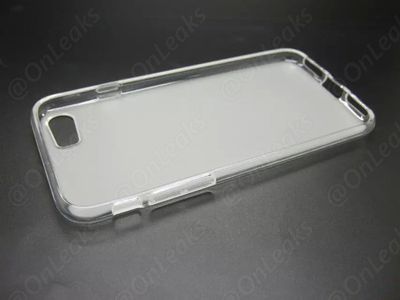 iPhone 7 case with larger cutout for dual-lens camera (Image: OnLeaks)
The aftermarket case's form factor closely resembles an iPhone 6s overall, with cutouts for a possible
all-in-one Lightning connector
, pill-shaped volume buttons, and side-facing power button in their traditional places.
Early case leaks have historically been fairly accurate indicators of new iPhone designs, though there have been a few notable exceptions. The first cases for Apple's purported iPhone SE also surfaced last week ahead of its expected March 21st launch.

The case also has openings for stereo speakers on the bottom (Image: OnLeaks)
Multiple rumors have also claimed the iPhone 7 will feature a
dual-lens camera system
. The hardware could be based on technology Apple
acquired from LinX Imaging
, which could lead to brighter and clearer DSLR-quality photos and several
other major advantages
for the iPhone 7 cameras.
Meanwhile, Barclays analysts believe the iPhone 7 will have dual speakers supplied by Cirrus Logic, an Austin-based provider of analog and digital signal processing components for consumer electronics. Stereo speakers could be louder and route audio signals through two channels to simulate direction perception.
Update: A previous version of this article said the case has a cutout for dual cameras, but the opening may only be large enough for a traditional single camera and LED flash setup. Some rumors claim the dual camera setup may be exclusive to the iPhone 7 Plus, which reportedly may be called the iPhone Pro.