Tim Cook Addresses Privacy, Government Requests in New NPR Interview
Just days after Apple updated and expanded its privacy site to explain how it handles personal information, CEO Tim Cook sat down with NPR's Robert Siegel to talk about how the Cupertino company protects user data and when and where it uses that information.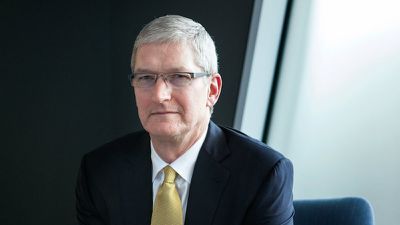 Cook starts off by noting that Apple designs its products with privacy in mind after being asked about government data requests. Apple wants the user to control the data and who gets to see or use it.

However, we design our products in such a way that privacy is designed into the product. And security is designed in. And so if you think about it ... some of our most personal data is on the phone: our financial data, our health information, our conversations with our friends and family and co-workers. And so instead of us taking that data into Apple, we've kept data on the phone and it's encrypted by you. You control it.
The Apple CEO goes on to address his thoughts on a "back door" that allows government agencies access to user data in an effort to pursue national security. Cook notes that if you leave an open door for the good guys in your product, there's an opportunity for the bad guys to find and use the open door. He believes that everyone, including government agencies, are coming around to the idea that a "back door" is a nonstarter and that encryption "is a must in today's world."
When asked whether Apple's emphasis on privacy is a dig to competitors like Google or whether it would exist if Apple wasn't a hardware company, Cook maintains that Apple's views on privacy are born out of the company's values.

Our values are that we do think that people have a right to privacy. And that our customers are not our products. We don't collect a lot of your data and understand every detail about your life. That's just not the business that we are in.
Cook also talked about how Apple uses user data, noting that he believes its fine for the company to know your purchasing history in iTunes or the App Store to recommend music and apps to customers. However, Cook draws the line at sharing data between apps, saying that he doesn't believe the News app should know what music you buy, or whether the content of your emails should be used to sell a different product.
This marks the third major occurrence in which the Apple CEO has addressed the company's stance on user privacy this summer. Two weeks ago, Cook spoke about privacy concerns regarding the new "Hey Siri" feature in the iPhone 6s during a ride to Apple's flagship 5th Avenue location in Manhattan. In June, Cook spoke about the importance of encryption and privacy at the Champions of Freedom event in Washington.
The entire interview can be listened to at NPR's website.