Apple CEO Tim Cook Speaks on Importance of Privacy, Encryption at Champions of Freedom Event
Apple CEO Tim Cook was honored at the Electronic Privacy Information Center's Champions of Freedom event in Washington yesterday, where he took the opportunity to give a speech covering Apple's stance on privacy, the importance of guarding customer information, and the company's views on encryption.
TechCrunch has shared details on both the event and Cook's speech, calling him "characteristically passionate" about the topics he spoke on.
"Like many of you, we at Apple reject the idea that our customers should have to make tradeoffs between privacy and security," Cook opened. "We can, and we must provide both in equal measure. We believe that people have a fundamental right to privacy. The American people demands it, the constitution demands it, morality demands it."
Cook highlighted Apple's commitment to customer privacy while also lambasting other Silicon Valley companies like Google and Facebook for collecting customer data. "They're gobbling up everything they can learn about you and trying to monetize it," Cook said. "We think that's wrong. And it's not the kind of company that Apple wants to be."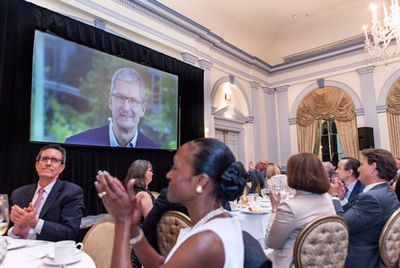 Image via TechCrunch


As he has done multiple times in past privacy-centric speeches, Cook reiterated Apple's position as a company that gets its money from selling products and services, not the personal data of its companies. He also made a subtle jab at Google's new Photos app, which offers free, unlimited photo storage.

"We believe the customer should be in control of their own information. You might like these so-called free services, but we don't think they're worth having your email, your search history and now even your family photos data mined and sold off for god knows what advertising purpose. And we think some day, customers will see this for what it is."
On encryption, Cook said he believes it's "incredibly dangerous" that some government agencies advocate for unfettered access to consumer data and devices, an issue that's come to light following encryption changes that Apple introduced with iOS 8. As of iOS 8, Apple no longer stores device encryption keys, making it impossible for the company to bypass a passcode and provide consumer data at the government's request.
According to Cook, weakening encryption with a "master key" for the government has a "chilling effect on our First Amendment rights and undermines our country's founding principles." He says Apple will continue moving forward with encryption and will focus on building products "that keep people's information safe."
More of what Cook had to say during yesterday's speech can be found over at TechCrunch. The Verge has also shared details on the speech.
Note: Due to the political nature of the discussion regarding this topic, the discussion thread is located in our Politics, Religion, Social Issues forum. All forum members and site visitors are welcome to read and follow the thread, but posting is limited to forum members with at least 100 posts.