iPad Mini 4 Teardown Confirms Smaller Battery and 2 GB RAM
At its "Hey Siri" event, Apple announced an updated iPad mini 4 but largely glossed over any details, focusing its time on the iPhones 6s and 6s Plus, the new Apple TV and the iPad Pro. Today, iFixit completed its teardown for the device, confirming that it comes with a smaller battery than the previous iPad mini as well as 2 GB of RAM.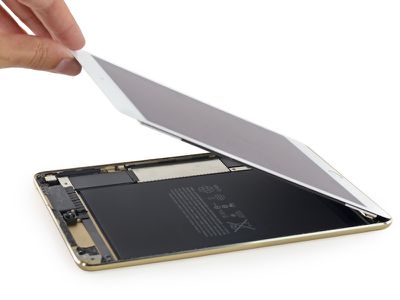 While iFixit's teardown physically confirms that the iPad mini 4 has 2 GB of RAM, Ars Technica ran a GeekBench 3 test a couple days ago on the device, confirming that it runs a 1.5 GHz Apple A8 with 2 GB of RAM. This makes the iPad mini 4 faster than the iPhone 6 and 6 Plus, which run a 1.4 GHz A8, and both the iPad mini 2 and 3, which run 1.3 GHz A7's.
iFixit's teardown also confirmed that the device comes with a smaller, thinner single-cell battery. The iPad mini 4's battery is 5,124 mAh while the iPad mini 3's battery is 6,471 mAh. While the new battery is smaller, Apple claims the new iPad mini 4 retains the same battery life as the iPad mini 3.
Finally, Apple has also refined, slimmed down and moved around many of the new iPad mini 4's parts due to shrinking the device's thickness from 7.5 mm (iPad mini 3) to 6.1 mm (iPad mini 4). For instance, the FaceTime camera has slimmed down, the battery has shrunk, the LCD and front panel glass are fused together and antennas have been moved both to the top and bottom of the device. iFixit's full teardown provides additional details on all the nips and tucks in the device.