MacRumors and Aspyr Giveaway: Get a Free Copy of 'Civilization V: Campaign Edition' for Mac
Most of our
giveaways
have focused on hardware products, but this week, we've partnered with
Aspyr
to set up a special one-of-a-kind
giveaway
. We've teamed up to offer our
MacRumors
readers a free copy of the ultra popular game
Civilization V: Campaign Edition
, which normally retails for $29.
We've created a
dedicated page for the giveaway
. Head over there to get a promotion code for
Civilization V: Campaign Edition
that can then be redeemed within the Mac App Store. The promotion is open to readers worldwide.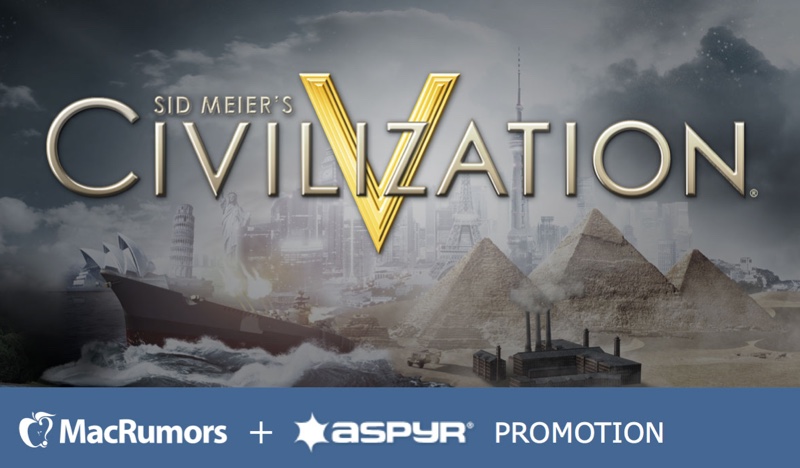 For those of you unfamiliar with
Civilization V
, it's a turn-based strategy game that lets players lead a civilization to world domination through time, waging wars, discovering technologies, trading with friendly nations, and interacting with some of the world's most powerful historical leaders.
Civilization V: Campaign Edition
includes the base game, the Babylon Civilization Pack with Nebuchadnezzar II, plus the Mongols Civilization and Scenario Pack.
We're providing each of our readers with one promo code apiece, and codes will be available through July 31 at 11:59 p.m. Eastern Time or until all codes have been claimed. Codes will expire on August 4, so make sure to enter your promo code in the Mac App Store before then.
Visit the giveaway page
.
Update 3:00 p.m. Pacific Time:
We've just exhausted our supply of Civilization V promo codes. We're working on getting more codes to give away and we'll let our readers know when we're able to distribute more, so stay tuned.