Jony Ive Named Chief Design Officer at Apple, Alan Dye and Richard Howarth Take Over Day-to-Day Design Management
Apple today announced the appointment of Jony Ive to a newly created position of Chief Design Officer, allowing him to continue overseeing design aspects of numerous projects within the company while turning over the day-to-day management of the design teams to Richard Howarth and Alan Dye, who have both been elevated to vice president positions. Apple CEO Tim Cook announced the changes today in a company-wide email.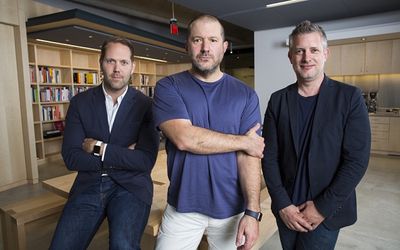 Alan Dye, Jony Ive, and Richard Howarth (Gabriela Hasbun for The Telegraph)
Team,

I have exciting news to share with you today. I am happy to announce that Jony Ive is being promoted to the newly created position of Chief Design Officer at Apple.

Jony is one of the most talented and accomplished designers of his generation, with an astonishing 5000 design and utility patents to his name. His new role is a reflection of the scope of work he has been doing at Apple for some time. Jony's design responsibilities have expanded from hardware and, more recently, software UI to the look and feel of Apple retail stores, our new campus in Cupertino, product packaging and many other parts of our company.

Design is one of the most important ways we communicate with our customers, and our reputation for world-class design differentiates Apple from every other company in the world. As Chief Design Officer, Jony will remain responsible for all of our design, focusing entirely on current design projects, new ideas and future initiatives. On July 1, he will hand off his day-to-day managerial responsibilities of ID and UI to Richard Howarth, our new vice president of Industrial Design, and Alan Dye, our new vice president of User Interface Design.

Richard, Alan and Jony have been working together as colleagues and friends for many years. Richard has been a member of the Design team for two decades, and in that time he has been a key contributor to the design of each generation of iPhone, Mac, and practically every other Apple product. Alan started at Apple nine years ago on the Marcom team, and helped Jony build the UI team which collaborated with ID, Software Engineering and countless other groups on groundbreaking projects like iOS 7, iOS 8 and Apple Watch.

Please join me in congratulating these three exceptionally talented designers on their new roles at Apple.

Tim
Alongside the announcement, Stephen Fry has published an exclusive interview with Cook and Ive at The Telegraph that addresses the legacy of Steve Jobs at Apple and Ive's continually expanding role with the company, among other topics. That expansion of Ive's duties, which has seen him add user interface design and increase emphasis on retail store and Campus 2 design leadership to his previous position as head of industrial design over the last several years, has led to today's restructuring that will free up some of Ive's time.

Stephen Fry, Tim Cook, and Jony Ive at Apple Campus 2 (Gabriela Hasbun for The Telegraph)
When I catch up with Ive alone, I ask him why he has seemingly relinquished the two departments that had been so successfully under his control. "Well, I'm still in charge of both," he says, "I am called Chief Design Officer. Having Alan and Richard in place frees me up from some of the administrative and management work which isn't … which isn't …"

"Which isn't what you were put on this planet to do?"

"Exactly. Those two are as good as it gets.
Apple's design team is a small, tight-knit group, many of whom have been working at Apple for many years. Last October, it was revealed Ive's close friend Marc Newson had been officially hired part-time for the design team at Apple, but Newson is not publicly taking on any expanded role in the latest shuffling of responsibilities.