Apple's Upcoming Streaming Music Service to Incorporate Social Networking Tools for Artists
Apple's upcoming streaming music service may be called simply "Apple Music" and it may also include social networking tools for artists, according to a new report from 9to5Mac that cites industry sources with knowledge of Apple's plans.
Likened to Apple's now-defunct Ping social networking system that let users follow artists and friends to see posts and music recommendations, Apple's new music service is said to let artists have landing pages within the music service to share "track samples, photos, videos, and concert updates."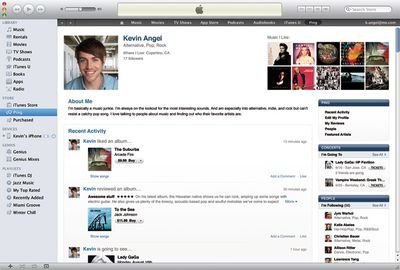 Hints of the new feature were found within the
latest iOS 8.4 beta
, released yesterday. In the Settings app, under General --> Restrictions, there's a new section called "Artist Activity," said to be correlated to the upcoming social networking features. Presumably, parents will be able to toggle this on or off to enable or disable restrictions on content updates from artists.


Users will reportedly be able to follow artists and comment on artist pages via iTunes accounts, but social networking profiles will not be available to general users. Artists will also have tools for cross-promotion.

Artists will also be able to share the content of other artists in an effort of cross-promotion. For example, all-gold Apple Watch wearer Kanye West could promote a new album from Taylor Swift on his "Apple Music" artist page, if he so chooses...

Using iTunes accounts, all users of the streaming music service will be able to comment on and like these posts from big name artists, but users won't have their own social network profiles like with Ping.
Rumors of an integrated social network for artists line up with previous rumors highlighting Apple's efforts to make some streaming music content available for free. A report from Re/code last week suggested that in addition to free trials, Apple would offer a SoundCloud-like sharing experience. It's possible that clips and videos uploaded by artists on their social networking pages will be available for free to all users, rather than limited to subscribers.
Apple plans to charge $9.99 per month for its streaming music service and it will not offer a freemium tier like other music services. Built on the existing Beats music service, Apple's rebranded and revamped streaming music service will continue to focus on curated content. To draw in additional customers and to distinguish itself from competing services, Apple is planning to offer a range of exclusive content from artists, which it could do in part through the aforementioned social networking tools.
Apple is still working to complete deals ahead of the launch of the new streaming music service, but it is on track to debut at the Worldwide Developers Conference in June.