Apple Seeds Third iOS 8.4 Beta With Revamped Music App to Developers, Beta Testers
Apple today seeded the third beta of iOS 8.4 to registered developers for testing purposes, two weeks after seeding the second iOS 8.4 beta and three weeks after releasing the first iOS 8.4 beta. iOS 8.4 has been in testing since mid-April, following the early April release of iOS 8.3. Today's beta is also available to public beta testers.
The beta, build 12H4098c, is available as an over-the-air download and through the iOS Developer Center. Apple has also released Xcode 6.4 beta 3 to developers.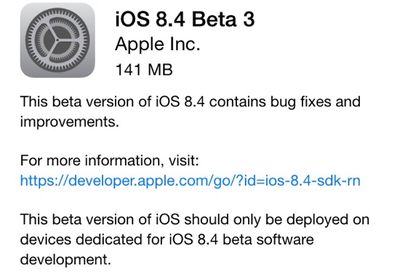 iOS 8.4's major feature is an all-new Music app that includes a revamped look. The Music app's new design shows pictures of artists in the Artists view and it offers a new MiniPlayer with a redesigned look for "Now Playing." There are personalized playlists, global search capabilities that make it easier to search within the Music app, and a streamlined design for iTunes Radio to bolster music discovery.
The first two iOS 8.4 betas had long lists of bugs associated with the new Music app, which Apple has been working to resolve with subsequent betas. According to the release notes, the third beta includes a few fixes for lingering issues to make the Music app more stable, but there continue to be a long list of known issues with the app.
Siri is not able to control iTunes Radio in beta 4, AirPlay streaming may be broken, Home Sharing and Genius Mixes are not available, and there are stability issues when using Up Next or iTunes Radio. It's also not possible to start a station from a song or artist, deleting an empty playlist can cause crashes, and the Music app may forget its place when exiting to the home screen. In addition to these issues, there are several other remaining problems with the app that will be worked out in future beta releases.
iOS 8.4's redesigned Music app comes ahead of the rumored debut of a redesigned streaming music service that may make an appearance at the Worldwide Developers Conference in June. The upcoming streaming music service is said to be similar to Apple's existing Beats music service, but with a rebranding, a redesign, deeper integration into iTunes, and a focus on exclusive content.
Changes to the Music app in iOS 8.4 beta 3:
iTunes Radio - The iTunes Radio portion of the Music app has seen a few interface changes, including a new font for the "Recently Played" section at the top of the app and new fonts for each iTunes Radio category.


Offline options - There's a new toggle in the Music app for showing music that's available offline on a particular device. There's also a new icon for denoting which songs are stored offline.


Search - Trending searches (added in beta 2) have been removed and Search history includes both local searches and iTunes Radio searches.