Apple Backs Down on $7.99 Price Point for New Music Service After Meeting Resistance From Record Labels
Amid all of the excitement over the 12-inch MacBook and new pricing details on the Apple Watch, Billboard has shared some new information on Apple's rumored music service.
Initial rumors suggested Apple was hoping to undercut competing services like Spotify on price, offering its upcoming music service for $7.99, but according to Billboard, music labels are said to be highly resistant to pricing under the industry standard of $9.99.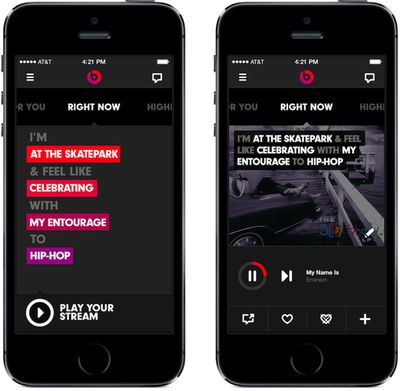 Due to labels' insistence on the $9.99 price point, Apple is said to have backed down from its aggressive $7.99 pricing goal, suggesting the service may cost subscribers $9.99 per month instead of $7.99 per month.
Negotiations for Apple's upcoming subscription service are evidence labels are standing firm on pricing. Industry sources say Apple has backed down from its effort to lower monthly pricing for its subscription service to $7.99 from $9.99. Apple would have to absorb the loss if it sets a price lower than the standard $9.99.
Apple may not be able to offer a lower price point than competing services, but industry insiders that spoke to Billboard have suggested that Apple is talking to artists and labels about exclusives for key releases that will help it stand out from the competition.
Limited details are available on Apple's new subscription music service, but it's said to be a complete rebranding of the company's existing Beats Music service. It is rumored to be directly integrated into iTunes and it will be platform agnostic -- available on iOS and on Android, through a dedicated Android app Apple is building.
Recent rumors have suggested that Apple will launch its revamped streaming music service in June, during the company's annual Worldwide Developers Conference.