Apple Still Working to Finalize Streaming Music Deals Ahead of Rumored WWDC Launch
Just weeks ahead of the rumored debut of its newly revamped streaming music service, Apple is still working to get key deals completed. According to a new report from Billboard that cites music industry sources, Apple does not yet have the necessary licensing agreements that it needs to launch the service, leading to disagreements over whether it will be ready to go in June.
A June launch is still attainable. One source notes Apple has been able to quickly secure licensing deals in the past. "If any company can pull it off, they can," the source tells Billboard, adding that "labels are more likely to play ball with them" because of Apple's track record of generating revenue for rights holders.

Another major label source believes the Beats Music re-launch isn't coming soon. "June won't be the release date. The deals aren't done."
Rumors about several licensing issues have arisen over the past several months as Apple has worked to ink deals with record labels. Originally, Apple was said to be seeking an agreement that would let it offer its new music service for $7.99 per month, but it was forced to back down on that price point after record companies resisted going below $9.99.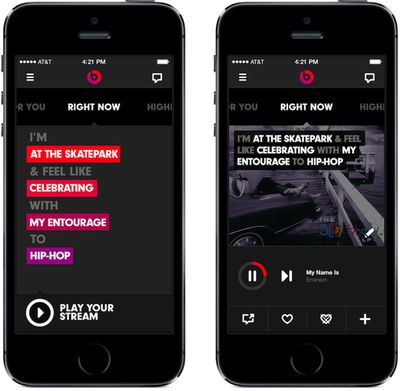 More recently, rumors have suggested Apple is pressuring music labels to cease offering licenses for the freemium tiers that Spotify and other services offer, as Apple does not plan to offer a freemium tier for its rebranded music service. These efforts have earned Apple government scrutiny, as the European Commission is now poking into Apple's agreements with music companies. U.S. Department of Justice officials are also said to be looking into Apple's music negotiations.
Apple is known for asking for highly favorable deals from media companies due to its influence and the sheer number of potential customers it commands, and it is unsurprising that the company has yet to finalize deals given some of the rumors about its demands. If deals are not completed in time, it's possible Apple will unveil the music service at its Worldwide Developers Conference, but release it at a later date.
Apple's upcoming music service is said to be positioned as a rebranding of its existing Beats Music service. To draw in customers and set its music service apart from the competition, Apple is aiming to offer a range of exclusive content. There are also plans to integrate the new music service deeply into iTunes, and it's likely it will be built into the newly revamped Music app introduced with iOS 8.4.