Apple in Talks With Florence and the Machine, Taylor Swift About Exclusive Beats Content
Apple couldn't establish lower pricing for its upcoming music service to distinguish it from competing services, so the company is hoping to draw in subscribers by offering exclusive content. Apple has asked Florence and the Machine and a dozen other artists for exclusive deals to promote the upcoming music service, reports Bloomberg.
Apple is said to be in talks with Florence and the Machine about limited streaming rights to a track for the band's upcoming album in June, and Apple execs have also approached Taylor Swift and others in the hopes of establishing a deal. An exclusive deal with Taylor Swift could be a big win for Apple as she's opted to pull her music from some streaming services like Spotify. Such exclusives could bring in music-loving subscribers that might otherwise not pay for a music subscription.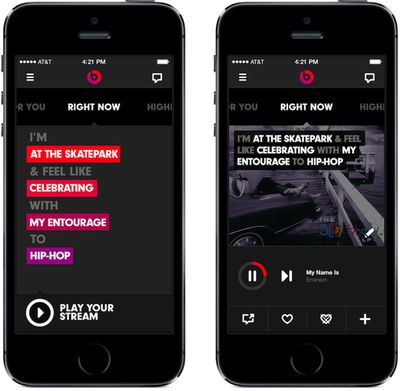 The strategy is similar to a tactic employed by Jay-Z's recently relaunched music service Tidal, which also hopes to attract subscribers through content that can't be obtained elsewhere. At launch, Tidal released a new song from Beyonce, following it up with an exclusive song from Rihanna.
Exclusives could work to help Apple garner subscribers, but the company's most promising tool for gaining subscribers is its huge existing customer base. Millions of people own iPhones and iPads, and Apple can create a streaming music app that's heavily integrated within iTunes and installed on Apple devices automatically.
As we've heard in previous rumors, Apple is working to completely revamp Beats Music to turn it into an all new subscription music service. It may gain a new name, says Bloomberg, and it will cost $9.99 per month for individuals, with a family plan available for $14.99.
Apple may be planning to unveil its new streaming music service at its upcoming Worldwide Developers Conference in June.