Intel Delays Next-Generation Broadwell Chips Until 2014 Due to Manufacturing Issue
Intel yesterday confirmed that it is delaying the production of its next-generation Broadwell processors on account of a manufacturing issue. Intel CEO Brian Krzanich announced the news during Intel's earnings call, stating that production on the chips will begin during the first quarter of 2014 (via PCWorld).
Intel's Broadwell chips are designed to be the successor to its existing Haswell chips, manufactured on a 14-nanometer process as opposed to Haswell's current 22-nanometer process.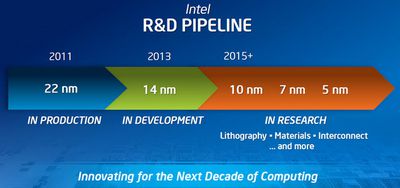 Intel ran into some problems with the 14-nanometer process used to manufacture the chips and will have to fix them before it can resume production, CEO Brian Krzanich said during Intel's earnings call on Tuesday.

Intel normally releases new chips like clockwork on an annual basis, and the manufacturing problems are a rare misstep for the company. Krzanich said there were problems with the "yield"—or the number of good chips the company gets per silicon wafer.
The Broadwell chips, which will eventually find their way into Apple's line of MacBook Airs and MacBook Pros, are said to be 30 percent faster and more power-efficient than Haswell, leading to even greater increases in battery life and performance. The inclusion of Haswell chips in Apple's MacBook Air boosted battery life to 12 hours on the 13-inch version and nine hours on the 11-inch version.
Based on Intel's prospective timeline with production beginning during the first quarter of 2014, Broadwell MacBooks could make an appearance at next year's Worldwide Developers Conference, which is where the Haswell MacBook Airs debuted.
It is unclear whether Apple had planned to introduce Broadwell updates earlier, and whether Intel's delay will affect its future release plans. Apple's scheduled desktop updates, for its iMacs, will not be affected as they will incorporate updated Haswell architecture rather than Broadwell chips.
Apple has yet to release a Haswell Retina MacBook Pro, which is expected to come before the end of 2013 and should bring significant improvements to battery life.
According to Intel, the delay of Broadwell will not affect the company's next line of processors, Skylake, as the chips are based on new architecture. Broadwell, however, will have a shorter lifespan due to Intel's manufacturing issues.