Skylake
By MacRumors Staff
Skylake Articles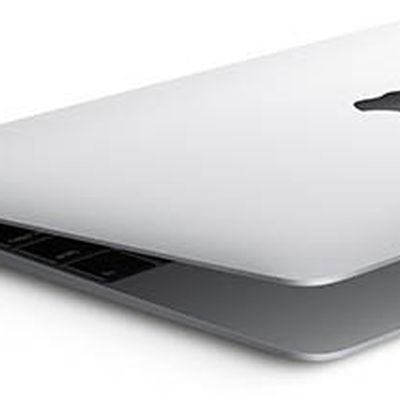 Apple is expected to refresh its MacBook lineup in 2016 with Intel's faster Skylake processors and Thunderbolt 3 with USB-C, and supply chain sources now indicate the updated notebooks may see a staggered launch throughout the year. The company's manufacturing partners are expected to start producing new 12-inch MacBook and 13-inch MacBook Pro models around late March or early April, followed...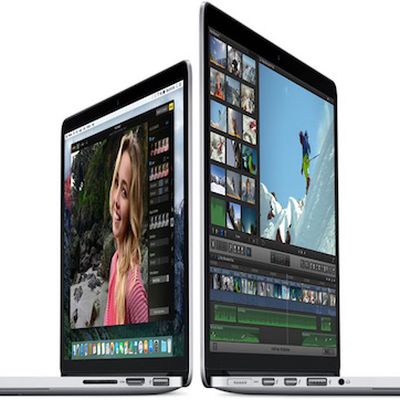 As noted by AnandTech, Intel this week quietly released an updated processor price list which includes several new Skylake chips that could be used in an updated 15-inch Retina MacBook Pro. The direct upgrade path for the 15-inch Retina MacBook Pro would use the following quad-core chip options: a 2.6 GHz Core i7-6770HQ, a 2.7 GHz Core i7-6870HQ, and a 2.8 GHz Core i7-6970HQ, all coming in...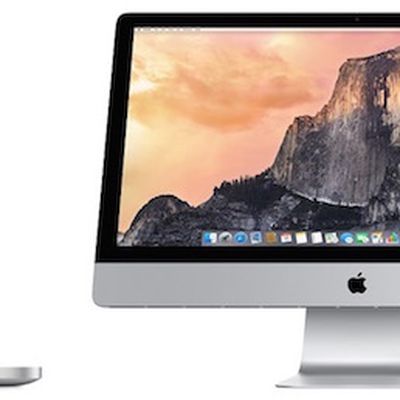 Intel has released detailed information about its upcoming Skylake processors for notebooks and desktops ahead of IFA 2015 in Berlin (via Ars Technica). The sixth-generation chips will deliver CPU and GPU performance improvements and longer battery life, and are likely to power future MacBook, MacBook Air, MacBook Pro and iMac models released over the next year. Retina MacBook Intel's new ...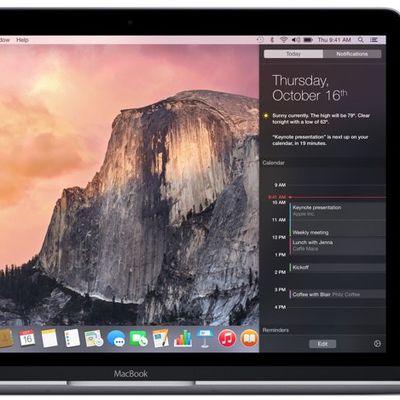 Following a closer look at Intel's upcoming Skylake processor lineup for the MacBook Air, CPU World has shared new details about sixth-generation Core M chips appropriate for the 12-inch Retina MacBook. Intel reportedly may brand the low-power Skylake-Y chips as Core m3, Core m5 and Core m7 based on performance. The low-end Core m3 6Y30 has a 900 MHz dual-core processor with Turbo Boost up...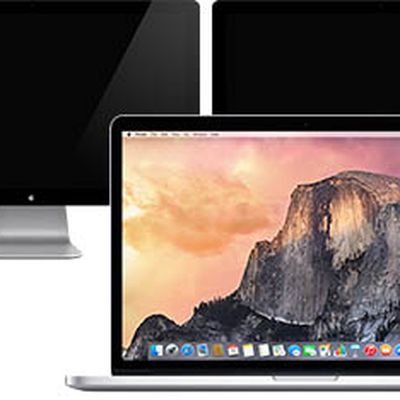 Intel has shared new details about its faster, more power-efficient Skylake processors at IDF 2015 in San Francisco. PCWorld reports that Intel engineers have suggested the sixth-generation Core processors could launch in around "two weeks," setting the stage for a possible announcement of new chips appropriate for Macs at the IFA Berlin trade show on September 4-9. Skylake processors will...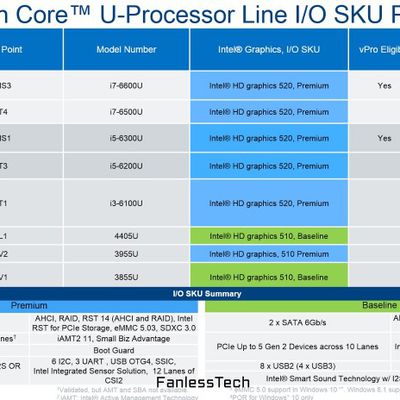 Details on Intel's upcoming 15-watt 6200U - 6600U Skylake processor lineup were shared today by Fanless Tech, giving us a look at what we can expect from the processors that will likely be used in Apple's next MacBook Air update. Click to view larger version The 2.3GHz i5-6200U and the 2.4GHz i5-6300U chips are appropriate for the lower-end MacBook Air models, while the 2.5GHz i7-6500U and...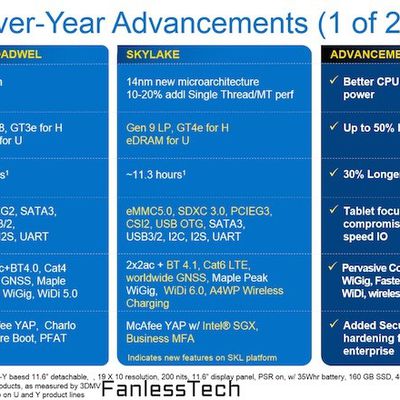 Less than two weeks before Intel announces new desktop Skylake processors, likely to be used in future Macs, at the Gamescom trade show in Germany on August 5, FanlessTech has leaked an Intel slide deck that offers a closer look at some of the performance enhancements the next-generation processors will deliver for both desktop computers and notebooks. The leaked slides reveal that Skylake...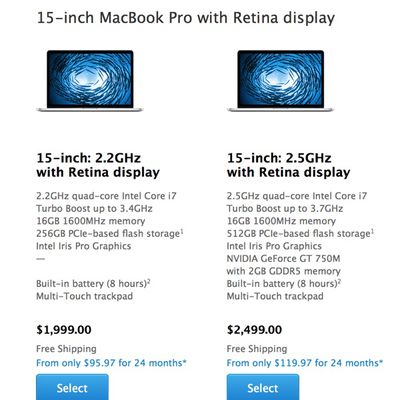 For the past several weeks, high-end 15-inch Retina MacBook Pro shipping times have been quietly slipping, first to one to two weeks and then to two to three weeks, sparking questions from MacRumors readers about whether a 15-inch Retina MacBook Pro update is imminent. While it's true we're approaching the Worldwide Developers Conference in June, where Apple often announces new products,...